---
ONE-STOP-SHOP
FOR DRIVER
ONBOARDING
6 MILLION+ ONBOARDING EVENTS SINCE 2009
One Integrated System
Enjoy Onboarding that's integrated with your entire driver-management experience! Marketing, Recruiting, Onboarding and Safety, all together in one system.
Better Driver Onboarding Process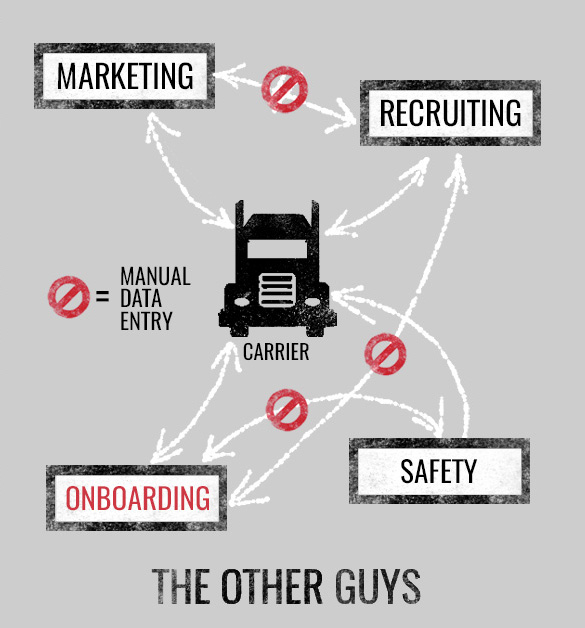 Many of our solutions help you hire the best drivers in the industry. Our Hiring Solutions takes it a step further by helping you hire drivers better. Our software pre-populates any data previously received from the driver so they don't have to write their name, address, Social Security Number and many other routine pieces of information over and over again.

Mobile Orientation & Training
The entire orientation service can be configured to fit the needs of your company. New drivers can watch orientation videos and even fill out the forms online from a computer, tablet or phone before orientation so they can meet the team and start driving sooner.
---
ONBOARDING RESOURCES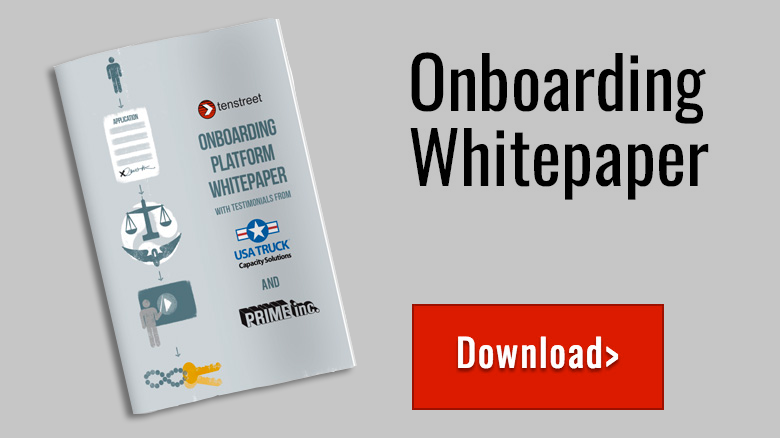 ---
 ONBOARDING 
ARTICLES
Key Features

---
Seamless, one-stop-shop onboarding system that integrates with your marketing, recruiting, and safety solutions

Make manual data entry between separate systems a thing of the past.

Go Paperless! Validate, track, and auto-populate forms online and on our mobile app saves time and makes onboarding a cinch.

Get away from the paper shuffle – no more manual tracking, incomplete forms, and chicken scratch

Adopt online training (videos, forms) to shorten orientation, or use the time saved to strengthen driver relationships

Put an end to long, drawn-out, over-populated classes where drivers feel like cattle.

Employ the free Pulse app to create a one-stop-shop experience for your driver

Save your drivers from unnecessary drives, time, and money spent getting to terminals
Pulse makes it mobile – use it for Confirmation IA, Document Uploader, Forms & Video Training, Greyhound, and Referrals (link to Pulse posters offer)
Testimonials
"We love the industry knowledge and expertise that Tenstreet provides to our company" "almost completely paper-free hiring and onboarding experience through Tenstreet's tools"Jim Guthrie - Director of Recruiting Prime Inc.
"65% of our new hires complete 2 hours of content before arriving at orientation" "It's not only a much better experience for our drivers, but it's a lot more efficient for our staff." Steven Brantley - Director of Driver Recruiting USA Truck
Key Software
DQF – Manage compliance of the employment lifecycle process with Tenstreet's completely paperless DQF management program.
CAREERS
Tenstreet is a fast paced, technology company providing software solutions for the transportation industry. We're after talented individuals with original ideas and passion to realize them.
TENSTREET
120 W 3rd St,
Tulsa, OK 74103
877-219-9283
support@tenstreet.com
sales@tenstreet.com
Copyright: Tenstreet 2017
---
---