Is Your Recruiting Process Stuck in the 80's?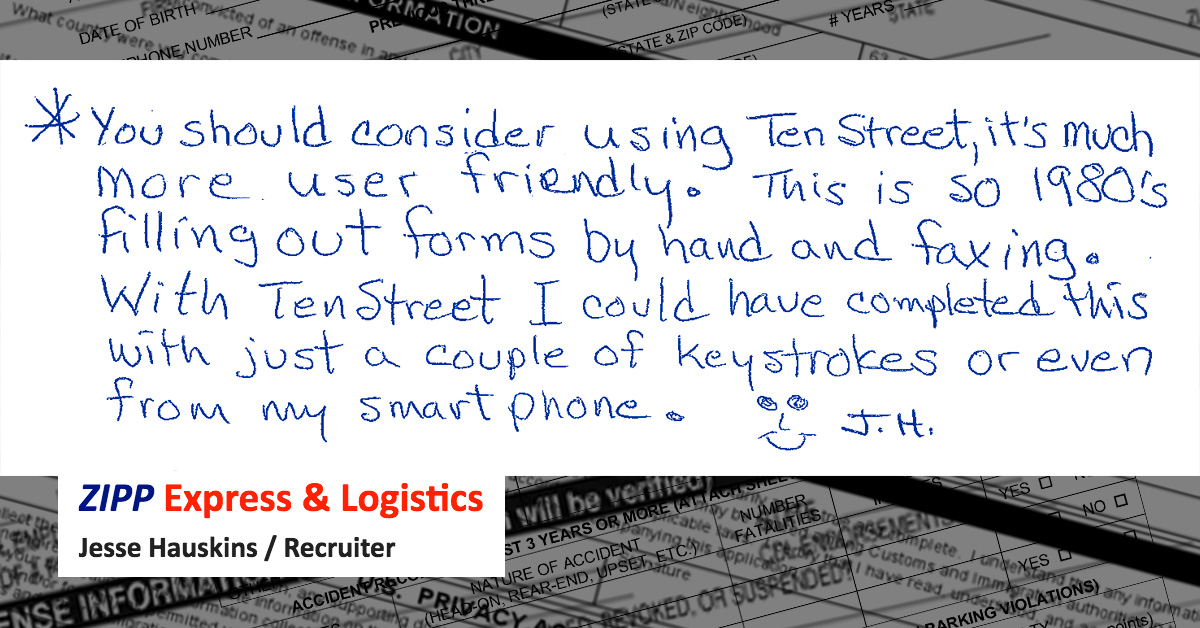 ---
Tenstreet gives you a competitive advantage by increasing application volume and recruiter production through our Processing Software. Our Xpress and Xchange products now allow candidates and recruiters to have access to prior applications, forms, and verifications. This makes the distribution and application process more detailed and much more efficient.
Processing is no longer a tedious task. We offer background check integration, instant PSP checks, recruiting and processing workflow, potential missing employee alerts, and FCRA compliance through our Adverse Action letter process.
No More Fax Machines
With our Xpress and Xchange software and key features, you no longer need to spend hours over a fax machine. Our processing systems will ensure document accuracy, increased application volume, and accelerate recruiter production.

Key Features

---
Background Check Integration- seamless support of "best of breed" sourcing
Instant PSP Checks 
Xchange Verification Systems
Processing Workflow
FCRA Compliance
Potential Missing Employee Alerts – unique set of over 2MM "associations"
CAREERS
Tenstreet is a fast paced, technology company providing software solutions for the transportation industry. We're after talented individuals with original ideas and passion to realize them.
TENSTREET
120 W 3rd St,
Tulsa, OK 74103
877-219-9283
support@tenstreet.com
sales@tenstreet.com
Copyright: Tenstreet 2017
---
---