---
October 2018 Issue
Since our inception in 2006, Tenstreet has collected a wealth of driver and industry-related data giving us unique insight into the driver job market, helping carriers to make more informed recruiting decisions on what works and what doesn't. We've created the Tenstreet DMI as a way to answer the questions we most frequently get about the market and share our findings with the rest of the trucking industry.
---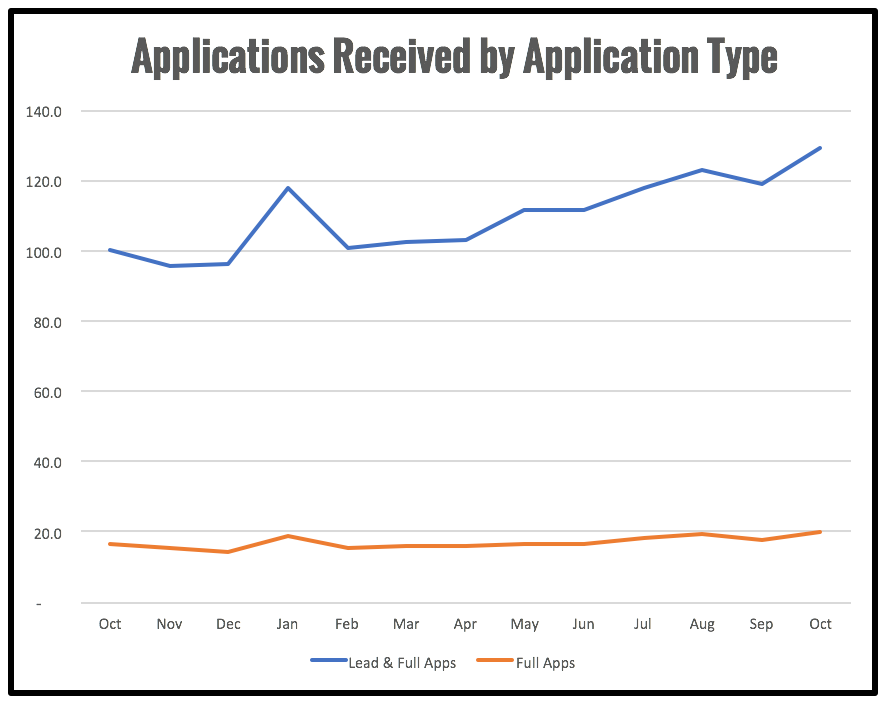 This chart shows the indexed volume of applications received and hiring activity for the trailing 13 months (October 2017 = 100). The data reflects activity from all clients that had consistent, meaningful volume for all thirteen months, i.e., the data is on a "same store sales" basis and represents data from more than 750 carriers. Note that this data aggregates volumes for all clients without attempting to gauge the number of unique drivers they represent (for that data, see below).
"Lead & Full Apps" represent volume from hundreds of lead sources, and should be understood as indicating the volume of drivers that contacted carriers over the time period. The "Full Apps" series indicates the volume of candidates that submitted full applications only. i.e., candidates that were interested enough in a given carrier to submit a complete application.
In October, 2018, the volume of applications received was up 29% from the year previous with the volume of full applications having increased only 23%.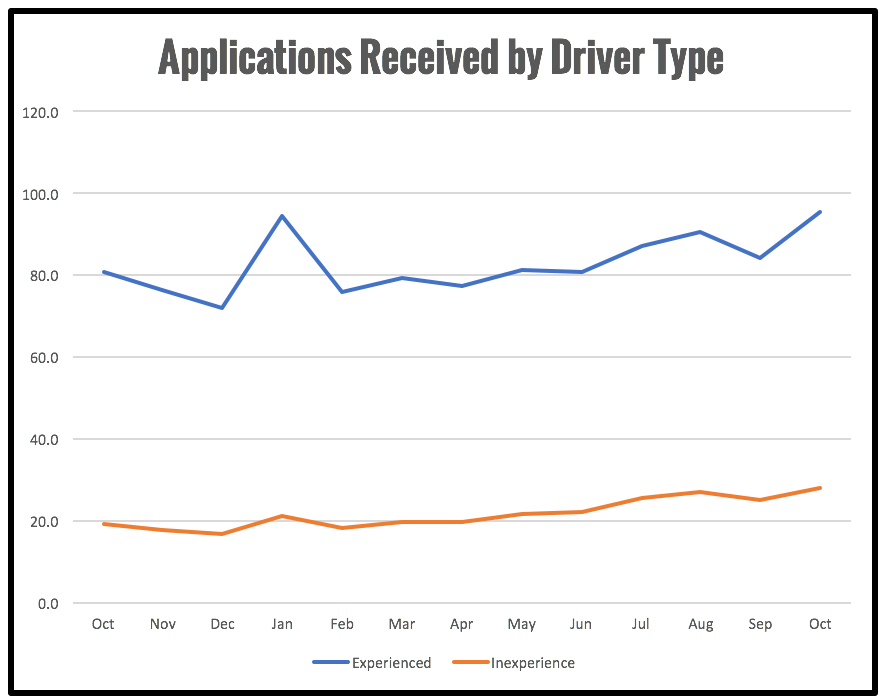 This chart shows the relative make up of the "Full App" series (indexed back to October, 2017) from the previous slide by driver type. Inexperienced candidates are those without driving experience, either those that lack a CDL or those that have a CDL, but did not indicate any driving experience.
The last 12 months have shown a steady increase in the level of inexperienced drivers in the market, climbing from ~19.5% in early 2018 to ~23% over the past few months.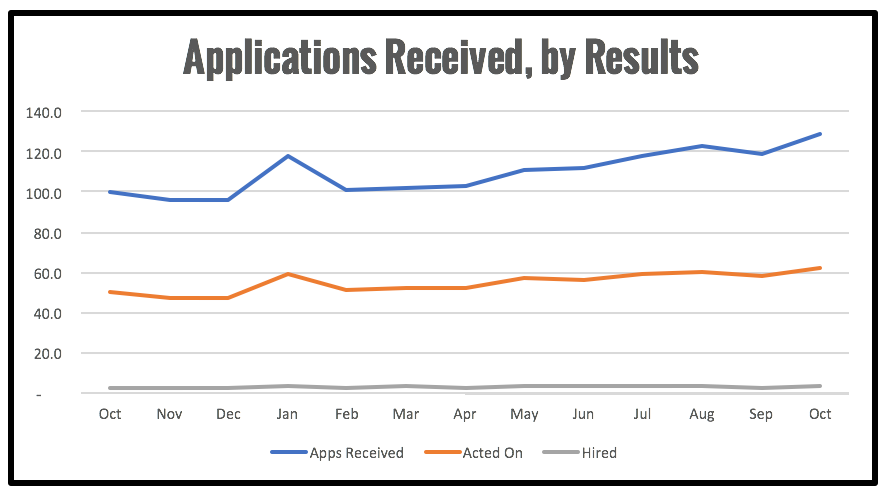 The chart above shows the outcomes based on the "Full Apps" index over the past year.  The "Acted On" series measures the level of those applications that resulted in a substantive action on the part of the carrier (largely either an employment verification or a background check) which indicates that the carrier was interested in the application and that the driver responded to that interest.
While the indexed volume of those applications acted on has risen, it's notable that the percentage of applications being acted on has stayed consistently around 50%. It's curious that many candidates who have expressed enough interest to submit a full application don't seem to engage with the recruiting process, even taking into account applicants that are clearly not qualified.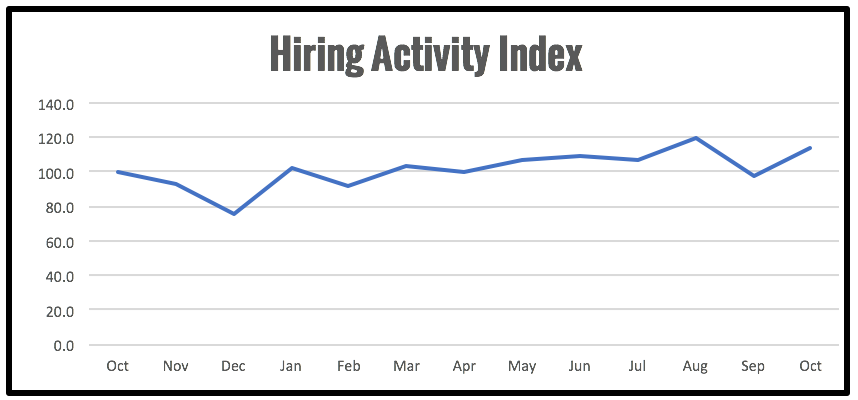 This chart tracks the indexed amount of hiring that occurs each month. It largely tracks the overall application volume with a slight lag in September and October.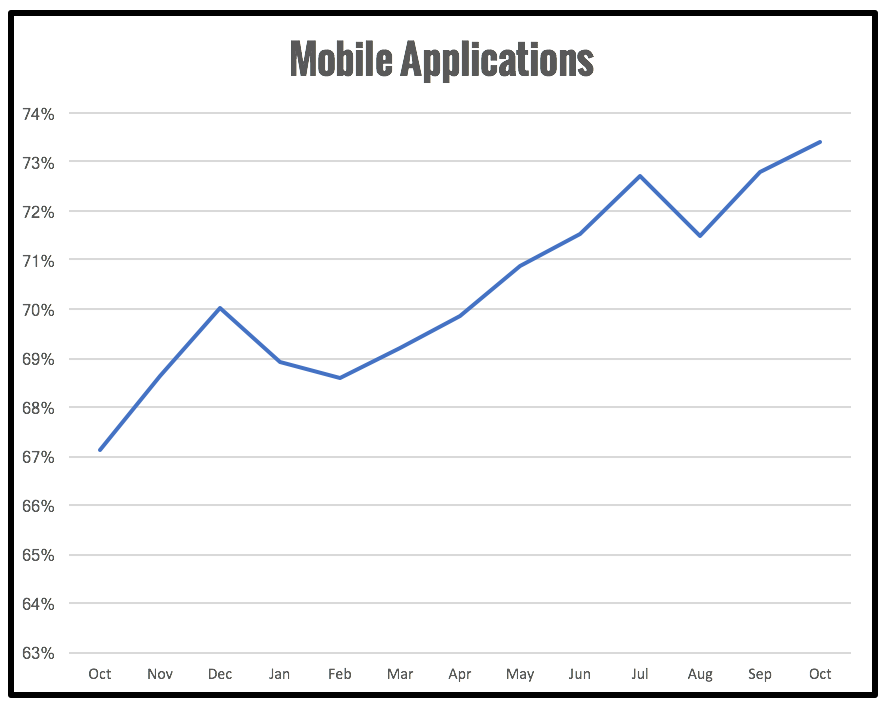 This chart shows the percentage of drivers by month that are applying via their mobile device when submitting a full application. Clearly the inevitable trend towards a mobile-first world has continued for the past year, with 3 in 4 drivers opting to apply from their mobile device.
Today, phones outnumber tablets about 3 to 1, with Android-based devices accounting for 85-90% of all mobile applications.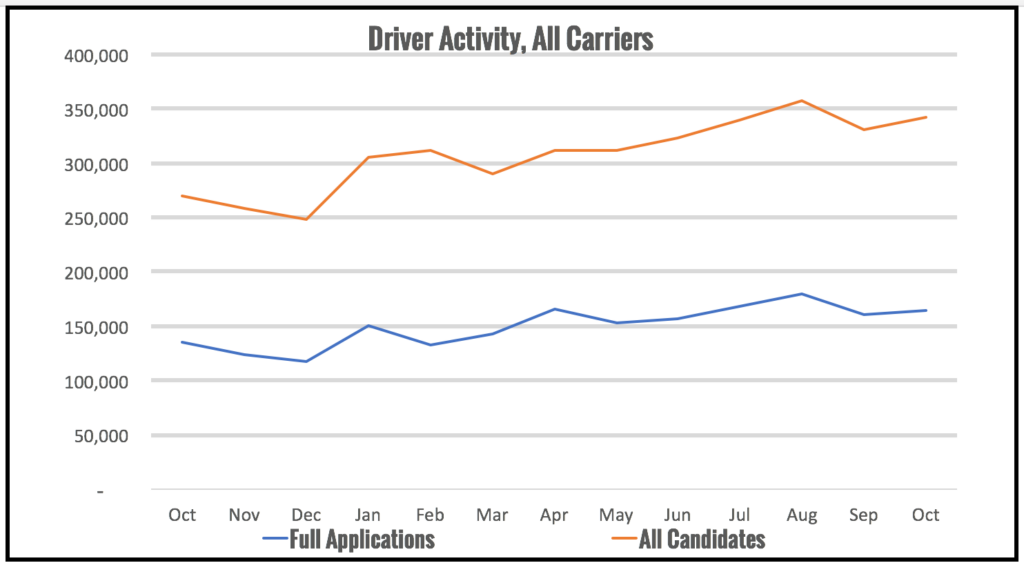 Finally we look across all carriers in our network to gauge what's going on with the driver market overall – beyond what individual carriers are experiencing – by aggregating the unique individuals submitting either a lead and/or full applications in any given month. A single individual submitting applications to multiple carriers is only counted once per month.
There are two important takeaways here. 
First, the percentage of drivers who submit a full application is consistently below 50% of the total number of drivers who submit a lead application, i.e., most drivers in the market seem to be trying to explore their options and not seriously job seeking.
Second, the number of drivers in the market each month (or applying via our platform at least) has increased ~27% YOY – which is basically consistent with the increase that individual carriers are seeing.
The Tenstreet DMI will be published monthly. We'd love to hear what you think. If you have questions or comments, please send us an email at feedback@tenstreet.com.
---
What is Tenstreet?
Tenstreet is a SaaS company dedicated to finding new answers to the trucking industry's toughest problems. Our end-to-end line of carrier services, such as the IntelliApp and Driver Pulse, are designed to create simple, time-saving solutions in the areas of driver recruiting, safety, onboarding, and marketing. We help companies succeed in a paperless environment, offer the fastest-time-to-hire, and ease the lives of our clients and drivers alike.
---