Safety Just Got
A Lot Easier
Bulk MVRs


Order Multiple MVRs in Just a Matter of Seconds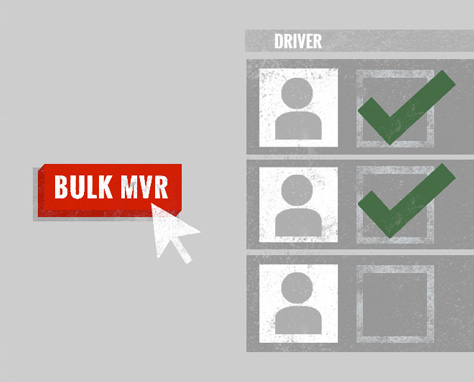 Ordering annual MVRs individually just became a thing of the past. Now, bulk order MRVs from the Search tab, or from the DQF Missing/Expired Documents Report.
You can enter the search criteria to select the subset drivers you want to target. A couple more clicks to finalize your order, and you're done. Multiple MVRs ordered, in just a matter of seconds.
---
Driver Management View

View and Manage Your Drivers' Accidents & Incidents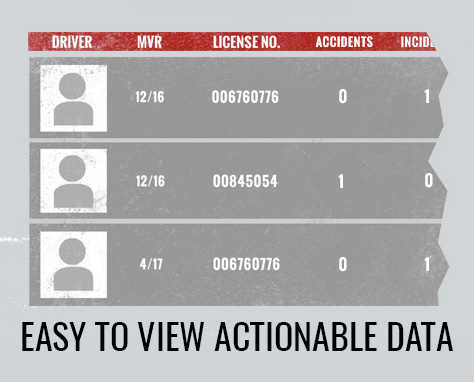 The Driver Management view is a powerful tool that allows you to see key at-a-glance safety details on your drivers.
This view offers a straight-forward way to view and manage your drivers' accident and incidents (including type(s), points, relevant dates and basically whatever field you can dream up) – without searching through your Documents tab.
---
DQF

Capture, Store & Manage Driver Documents with Ease
Our DQF software helps carriers spend less time filing and searching for documents. Our DQF solution enables you to capture, manage and store all driver documents from any format including photos, paper, digital uploads, and forms.
Manage Documents with Powerful Automated Workflows
Different from paper records, physical files or even static scans of documents, our DQF software can receive any document and turn it into an active digital file. Once the digital information is stored and categorized you can create custom workflows that automatically manage your documents for you: flag issues, schedule classes, even send drivers push notifications about missing and expired docs.
Stay ahead of DOT rules while you focus on the work that makes your trucking business profitable — hiring and retaining the best drivers in the country.
---
---
---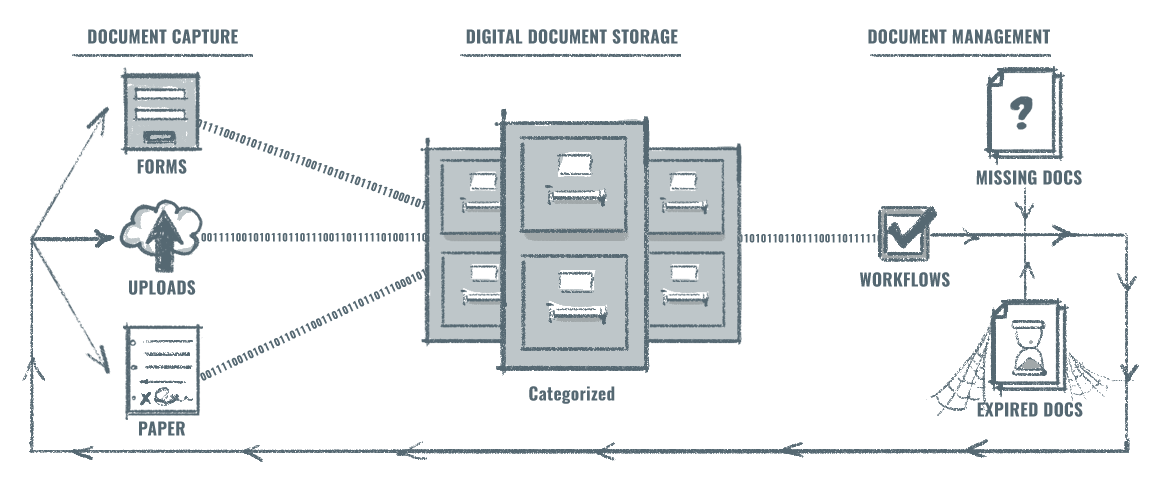 ---
---
Key Features

---
Bulk MVR – order multiple MVRs in a matter of seconds
Driver Management View – View and manage your drivers' accidents & incidents
Background Check Integration- seamless support of "best of breed" sourcing
Instant PSP Checks 
Xchange Verification Systems
Processing Workflow
FCRA Compliance
Potential Missing Employee Alerts – unique set of over 2 Million  "associations"
CAREERS
Tenstreet is a fast paced, technology company providing software solutions for the transportation industry. We're after talented individuals with original ideas and passion to realize them.
TENSTREET
120 W 3rd St,
Tulsa, OK 74103
877-219-9283
support@tenstreet.com
sales@tenstreet.com
Copyright: Tenstreet 2017
---
---