Driver Pulse Functionality
Hover over and click on area of the image to learn more about the features drivers love with Driver Pulse!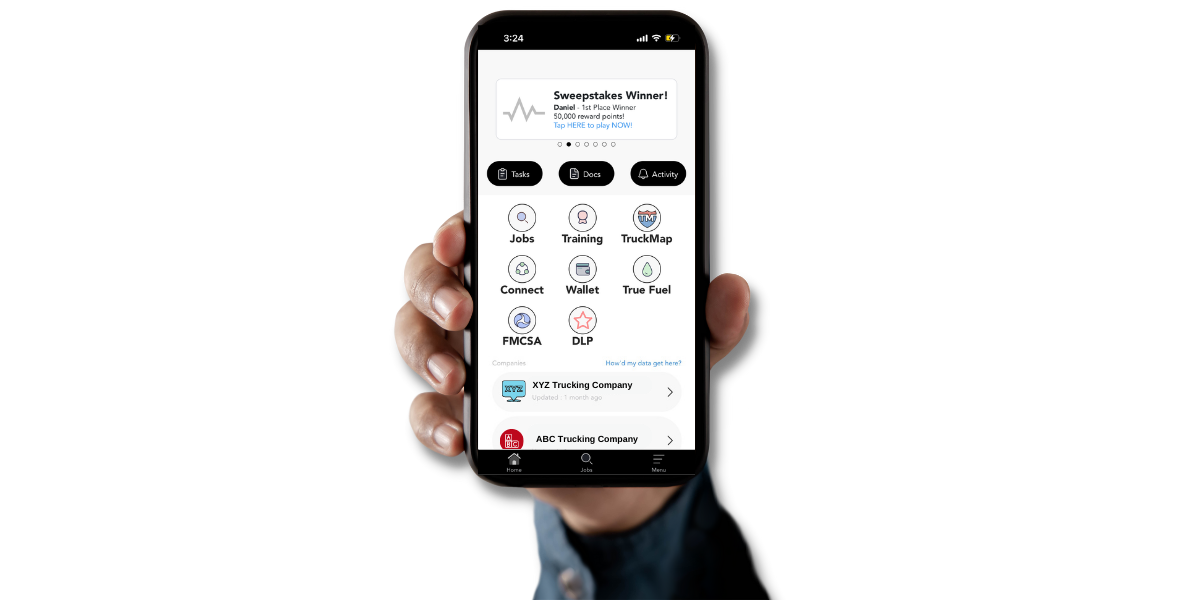 Training
Enhance your skills and expertise through our Training feature. Access 200+ top-tier training courses aimed at helping you stay ahead in a competitive industry. Training courses are available in English, Spanish, and French.
Application Transparency
We believe drivers deserve transparency around their data. Our Application Transparency feature shows you every company you've shared applications with through the Pulse App, and lets you control how and if they are permitted to contact you.
Jobs
Unlock endless job opportunities using filters to tailor the results to your needs! Our Jobs feature connects you with top-notch carriers and businesses, providing you with access to a wide range of trucking jobs to suit your preferences and expertise.
TruckMap
The power of TruckMap, your ultimate navigation companion, is now available in Driver Pulse! This feature is designed to provide truck-specific routes, real-time traffic updates, and essential points of interest for a seamless journey on the road.
Connect
Have you ever wondered what life is like at a company you are considering applying to, or wanted to let other drivers know about your experience with your current carrier? Check out the Connect feature to hear and share experiences with fellow drivers.
Wallet
Use the Wallet feature to manage your Pulse Rewards Points. You can earn points from your carrier, Pulse Sweepstakes, or by utilizing True Fuel. Your points can then be turned into mobile gift cards at your choice of 15+ popular vendors. The best part? Once you've earned points in your wallet, they are yours to keep-- even if you leave your current carrier!
If your carrier isn't using rewards, Pulse Sweepstakes gives you a free chance to win every week!
True Fuel
Optimize your fuel efficiency directly through Driver Pulse with True Fuel. This feature provides real-time insights and recommendations to help you save money on fuel costs, lower wear-and-tear on your truck, and reduce your environmental impact.
FMCSA
All drivers must be registered with the FMCSA Clearinghouse to be hired by a carrier, and Driver Pulse allows you to easily register for and manage your FMCSA Drug & Alcohol Clearinghouse portal in the same app you use to manage the rest of your career.
Drivers Legal Plan
Protect yourself with our Drivers Legal Plan integration. This feature gives you access to discounted legal assistance and support from lawyers who specialize in trucking, empowering you with the confidence to handle any legal challenges that may arise during your driving career.
Tasks
Stay organized and efficient with our Tasks feature. Easily manage and track your to-dos, ensuring you never miss a beat while you're on the road.
Docs
Securely store and manage essential paperwork, eliminating the need to find a fax machine on the road.
Activity
See a timeline of your activity on Driver Pulse, including a history of carrier activity and associated status activity so you know where your application stands.
Pulse Sweepstakes
Pulse Sweepstakes gives drivers a chance to enter and win free Pulse Rewards Points every week by completing quests within the Driver Pulse app.  Check out the 'Wallet' button to set up your profile and start earning entries today!
Companies
Companies that you share your information with via a lead form or full IntelliApp will appear here, making it easy to keep track of your data.