Driver Pulse showcases your company to over 130,000 drivers a month, resulting in fresh applications and new hires at no cost to you
---
Driver Pulse Mobile App was created to help bridge the gap between drivers and recruiters and to keep drivers engaged – meaning expedited hiring, tighter communication, and happier drivers. Driver Pulse has been downloaded by almost 1.2 million drivers and has over 130,000 monthly active users. It serves as your tool to market, recruit, onboard, and manage your drivers, and it's free.
Here's how it works:
1. Active Jobs & Company Profile: Start by marketing to your drivers. Take advantage of free advertising for your open positions and company brand by creating a company profile and active jobs.
2. Carrier Search: Drivers can then search for and discover your company to view your open jobs, company profile, and apply in just a few taps.
3. Free Applications: Next, your recruiters will start receiving free IntelliApps from these drivers for your open positions.
4. Status Bar: While Recruiting reviews and processes applications, drivers are provided with a sense of where they are in your hiring process.
5. Background Reports Sharing: Automatically share MVR, PSP, and other background check reports with your prospects to make for easier conversations around these reports.
6. Pulse Messaging: All the while, chat with your prospective and hired drivers in real-time with Pulse's free, in-app messaging service.
7. Checklists : To help make recruiting and onboarding even easier, create a to-do list to allow drivers and recruiters to more easily work together.
8. Document Upload & Signatures: Easily collect driver signatures and documents in seconds at any point.
9. Greyhound Tickets: When scheduling for orientation, you can help your drivers avoid lost or misplaced tickets with a Greyhound integration that sends electronic tickets to your drivers.
10. Driver Engagement: Continue to keep communication alive during and after the hiring process is complete with automated messaging that helps anchor your drivers, giving them a sense of belonging and a reason to stay.
11. Driver Referrals: After such a robust recruiting and onboarding experience, your drivers will want to refer their friends and can easily do so within the app, kicking off a fully-integrated driver referral program that just works.
For more details, check out the Documentation Section in your Tenstreet Dashboard (under the Manage tab).
---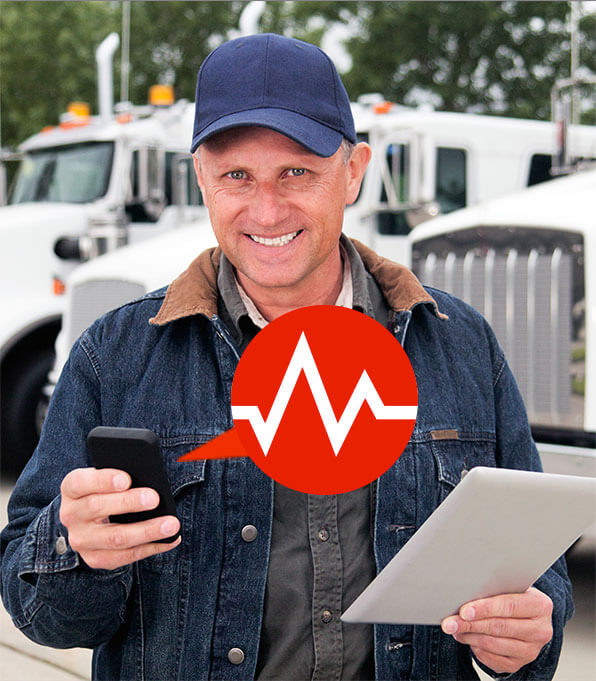 Save Time
Efficient
Whether you receive ten applications per day or a thousand per day, the success of your business depends greatly on your ability to communicate efficiently with interested, qualified driver applicants.
Automatic
Daily calls and emails from drivers concerning the progress of their application are very important, but can take up a lot of a recruiter's time. The Driver Pulse App dramatically reduces the amount of these calls and emails by delivering the information applicants want automatically.
Connected
By connecting directly to your Tenstreet account, Driver Pulse delivers up-to-the-minute updates through push notifications and a progress bar that displays the entire process from application-to-hire.
Gain Insight
"Likes"
Recruiters need a way to quickly find the right applicants, including filtering out less interested applicants. The Driver Pulse App enables drivers to "like" and "block" carriers. While no one wants to be "blocked", these features give recruiters new insight into a driver's interest level, helping them quickly decide if they should pursue an applicant or not.
Real-Time Messaging
Timing is everything; recruiters need an easy way to communicate directly with the most qualified applicants. Driver Pulse has a live message feature that enables drivers and recruiters to talk in real-time on their smartphones from the office or on the road.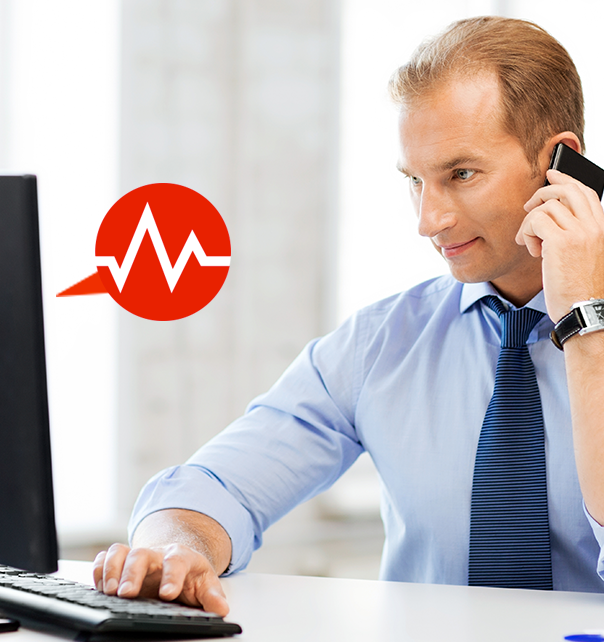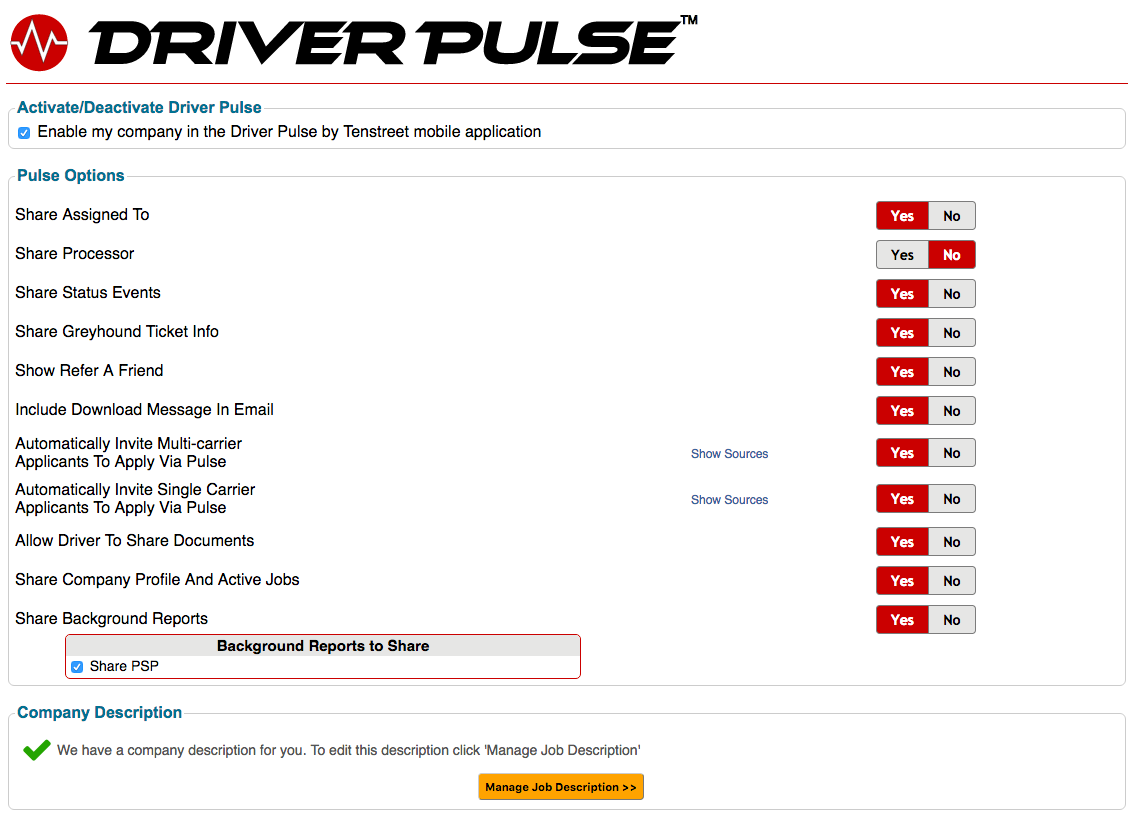 You're in Control
Control what information is shared and what services are available for your drivers. Nearly a dozen different toggles to keep you in control.
For more details, check out the Documentation Section in your Tenstreet Dashboard (under the Manage tab).