Tenstreet 2018 User Conference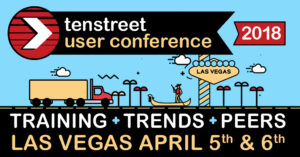 Get ready for:
deep-dives into new and unreleased services
important industry trends and market discussion
access to vendors and interactive panel experts, and
one-on-one time and client networking
See you in Vegas!
Upcoming Webinars
Join the Live Webinars and Jump in the Conversation:
Every webinar we host includes a live Q&A to address any and all of your questions.
Click the links below to RSVP!
February Webinars
February 6th, 2018 – Xpress Refresher
February 15th, 2018 – How Tenstreet Solves Your Toughest Transportation Problems
February 20th, 2018 – Xchange Refresher
Related Blog Posts