Disclaimer: The following information on specific laws and regulations does not constitute legal advice. As always, compliance with federal, state and local laws is ultimately your responsibility. We recommend that you consult with legal counsel to ensure your processes and procedures are fully compliant.
We aren't trying to toot our own horn (well, maybe just a little toot), but one of the things that has always put Tenstreet ahead of the curve is the conscientious effort we put into helping you stay on top of compliance. And in this effort we put you ahead of the curve competitively as well. Compliance is a critical element to stay on top of as failing to comply and follow these constantly changing regulations could end in you closing your doors forever — more than likely over something seemingly irrelevant that could have easily been avoided.
Because this idea scares us as much as it does you, we've developed a passion (read: obsession) for compliance here at Tenstreet.
For example, we:
automatically update your IntelliApp with newly added Ban the Box and states and jurisdictions
notify you when a driver's documents are about to expire, have expired, or are missing
add convenience and automation to your mandatory adverse action process
include a free individualized assessment alert on each subject letting you know when a subject gave an affirmative answer on a criminal question
link your IntelliApp with your privacy policy to help with exposure
offer the ability to include the FCRA disclosure and authorization and 1681m summary of rights as part of your application
provide monthly educational compliance webinars – previously recorded webinars go to youtube.com/tenstreetllc/- but watch your login notices and newsletter to join the next live one!)
And we could go on.
And for those of you who have been following us regularly, you know we mean it.
So after we created all of this built-in functionality and spent lots of time helping our clients learn how it works and what it means, another question came up. Compliance is EVERYWHERE. Our solutions touch many components of the IntelliApp, Xpress, and Xchange. And from this far from exhaustive list, you can tell that it also finds its way into almost every aspect of trucking. So how will our clients know if they're doing everything they should? How will they know what we're already doing for them versus what we could be doing for them? Or what they have implemented and what they don't?
It can be a little unsetting when you stop and think about all the things you might be missing about an already overwhelming topic. So we found a solution to this problem, too.
Today we're excited to release our new Compliance Center. It puts everything compliance-related right in front of you and all in one place so you can easily see what is implemented and what areas need your attention. Refreshing every night at midnight, it gives you high-level daily update right in your Xpress dashboard so you can better navigate where you stand on compliance issues related to Adverse Action, IntelliApp, Recruiting, Processing, Providing, Marketing, and Safety (DQF).
Clickity-Click Compliance Cards
Learn more! Many cards within these categories has a green sparkline to indicate how you compare over a 30-, 60-, and 90-day period so you can see how your company performs over time. And many cards are interactive – just click on 'More information' to learn more about a service you don't have (for example, PSP):
---

---
One you do have (for example, the 1681m):
---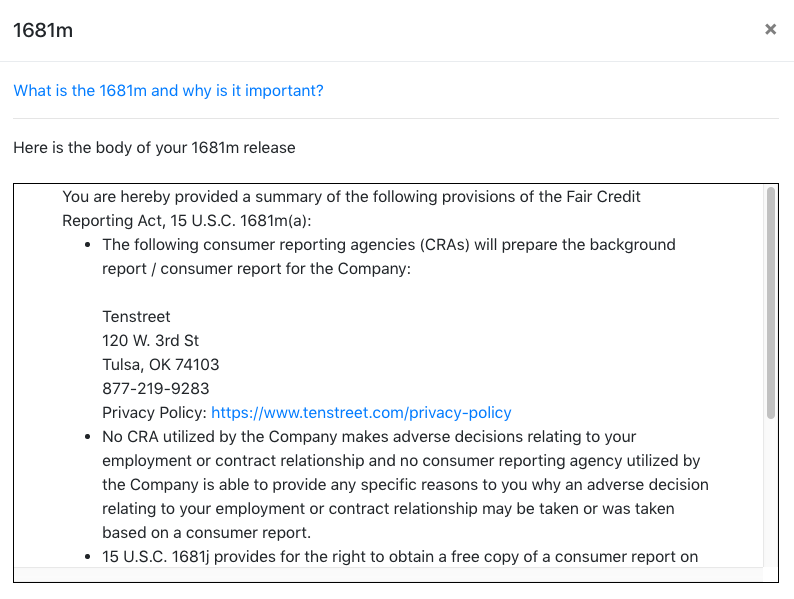 ---
Or how one you have is currently set up. For example, clicking on Adverse Action shows you which file types will be included with your pre-adverse action letter:
---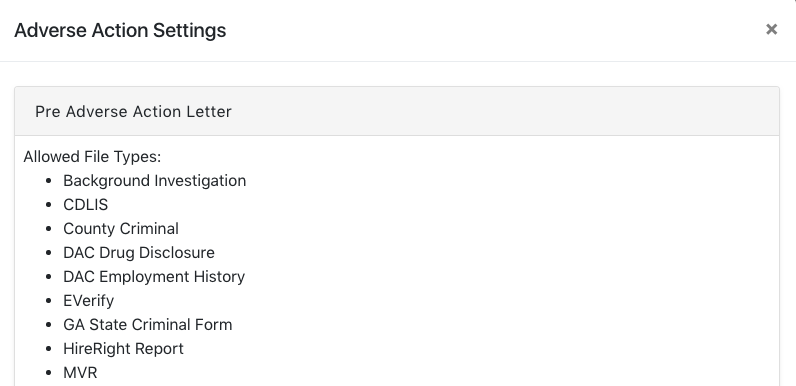 ---
Responsive design and set it (but don't forget it)
For all you mobile users out there (and for those on small screens), we've continued with our mobile-first approach and have developed the Compliance Center responsively, meaning these cards will readjust to any screen you're viewing them on so that you don't miss anything.
For added convenience, you can have this information emailed to you in the same format you see here on a daily, weekly, or monthly basis. Just click the 'Actions' dropdown at the top right and select the frequency most convenient for you.
Currently the Compliance Center is read-only and only available to Tenstreet primary users, but as new needs arise, expect updates. We'll never stop working to make compliance easier to understand and more convenient for you.
Want to see a live demo and learn more?
Join our Compliance Center webinar on November 29th at 2pm!