We work with truck driver recruiters, recruiting managers, and support teams every day. Our years of experience have led us to notice seven key habits that set successful recruiters apart. Here's how to become a successful driver recruiter.

1. RESPOND QUICKLY
One of our most important truck driver recruiter tips is to respond to new app submissions quickl
y. Most drivers apply to more than one carrier when they are looking for a job, so from the moment the driver hits "submit," you are in a race whether you like it or not.
2. STAY IN CONTACT
Stay in contact with drivers after they submit their apps. From putting the details of the job in context for the driver to obtaining one last piece of information required for processing or safety needs, there's always a reason to be in contact with drivers. The more communication you have with them during the window between application and orientation, the better. This creates a better experience for drivers, and if you don't talk to them, plenty of other carriers in the trucking industry would be happy to.
3. KNOW THE STATS & STAY CONNECTED

Most drivers who submit applications this time around won't end up driving for you. Accept that market reality, and stay connected with potentialdrivers over time, especially those who would make a great hire for your company. Yourdriver recruiting strategiesshould involve staying connected via personal calls and emails and/or an automated contentdelivery system, such as drip marketing.
4. KNOW THE DETAILS
Earn credibility by knowing the current details of the jobs you are recruiting for—not only the pay per mile and the average mileage but also the finer points. For example, how does the mileage bonus program really work and how are benefits programs structured? Be ready to answer the driver's questions clearly and honestly.

5. KNOW THE TECHNOLOGY PLATFORM
Knowinghow to be a successful driver recruiterinvolves understanding the recruiting process from a driver's perspective. Make sure you can walk a driver through the process. For example, if you are using Driver Pulse in your process, you should be able to guide a driver through uploading a picture of his or her driver's license with his or her smartphone. This helps smooth the process for drivers and provides a relevant reason to stay in contact with them. Internally, recruiters are really busy, with a thousand things to do and just as many interruptions. Knowing the technology tools you have at your disposal will increase your hiringsuccess rateand efficiency, and help you get through your day without going crazy.
6. KNOW WHERE YOU NEED DRIVERS THE MOST
Perhaps one of the most important truck driver recruiter tips we have for you is simple: knowing where you need help the most. While it's true that most carriers hire as many drivers as they can find and qualify, everyone has some extra-hot positions. Maybe your sales team just picked up some new freight in a part of the country you don't have a lot of drivers in or one fleet or terminal is just really hard to staff. Finding candidates for those high-need areas will increase the effect a recruiter can have on a business.
7. KNOW YOUR RECRUITING POLICIES & PROCEDURES
This one is last, but definitely not least, on our list of truck driver recruiter tips. Few things will frustrate a driver more than working with a recruiter who keeps asking for just one more thing. Getting candidates through the process as quickly and as painlessly as possible translates into a higher number of hired drivers, so learn all the necessary details before engaging with them.
Want to learn more about recruiting efficiently? Schedule a meeting with us to learn about our industry-leading recruiting solutions!
---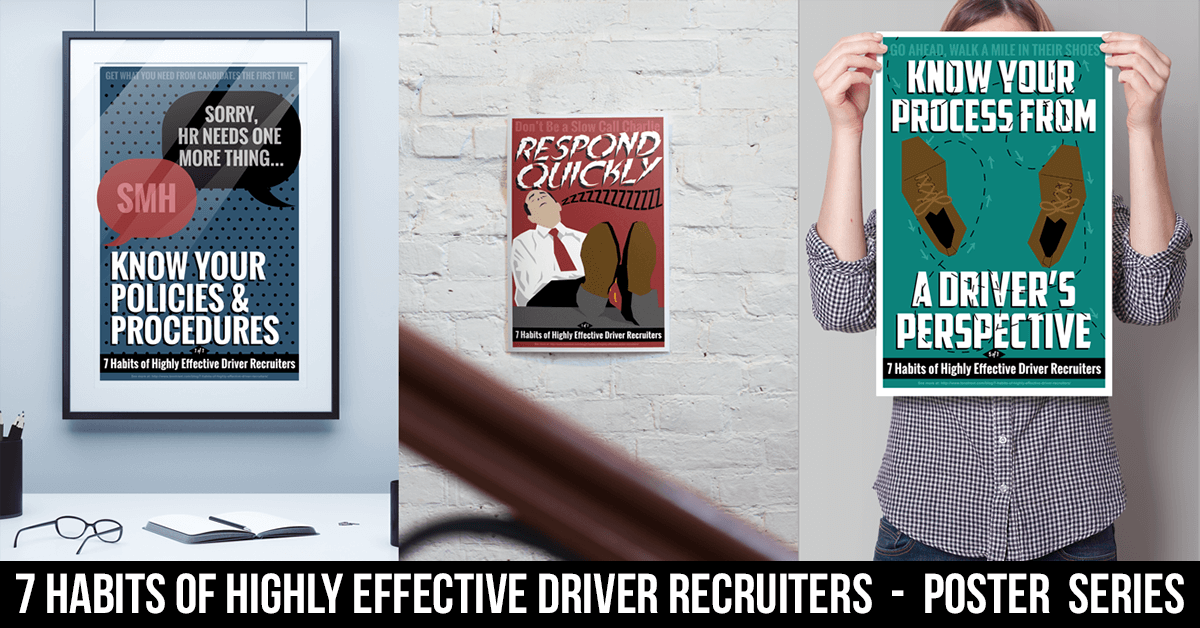 Download the 7 Habits of Highly Effective Driver Recruiters Poster Series
7 Free Posters with the best driver recruiter tips to spur your recruiting team on to increased effectiveness!
These high-resolution posters are natively 11″x17″ and can be scaled up proportionately to any size to fit your needs. Please share, print, and use these fun but important truck driver recruiter tips to help attracttalent and take your recruiting department to the next level.