We confess: Years ago, our signature software barely worked on mobile, but we learned how important mobile access is to drivers and we upgraded our platform to be mobile-friendly. From the very first day, the percentage of IntelliApps submitted on mobile devices jumped from 0% to 13%. It has continued to increase daily, from 13% to a whopping 48% as of September 2015.
Update: As of September 2023, 86% of drivers submitted IntelliApps from mobile devices.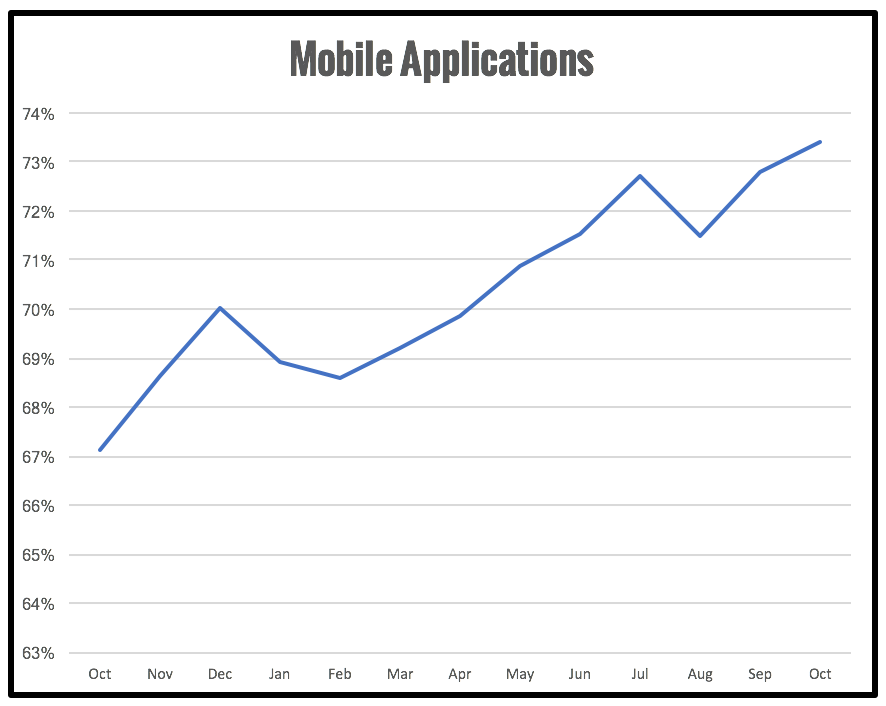 Over the past couple of years, we have gathered mobile statistics from more than a million drivers. Here are a few key findings:
• Androids outnumber iOS devices 3 to 1.
• Of the Android traffic, smartphones (small screens) outnumber tablets 9 to 1.
• Of the iOS traffic, smartphones outnumber tablets 3 to 1.
Put simply, we learned drivers prefer Android phones to iPhones and smartphones to tablets. This data tells us that a carrier's online recruiting process must not only be mobile-friendly but also optimized for small screens to accommodate the majority of smartphone users.
The Knee-jerk Reaction to Build a Mobile App
Often, carriers have a knee-jerk reaction to this type of data—they decide they need to create a proprietary mobile app for their driver applications. But look at it this way: if a driver has already clicked on your pay-per-click ad, read your landing page, and is ready to fill out a job application, you have accomplished your goal. This isn't the time to ask him to download and install an app to their phone instead. 
Another reaction is to create shorter applications that are easier to fill out on mobile devices. The problem with this solution is that shortened or "mini" applications don't give recruiters the information necessary to move drivers through the recruiting process.
A Better Way—Mobile Workflow from Marketing to Post-hire
To take advantage of this mobile world your entire process needs to be optimized for mobile. Drivers are more likely to do web research and answer drip email campaigns on their mobile. Every piece of your process needs to be mobile-friendly from the landing page to the application, to follow-up, even to post-hire communications.
Mobile applications are difficult if the driver has to type in a lot of history information. At Tenstreet, we have solved this problem by auto-magically filling out the application for the driver via the
IntelliApp Auto-Populate
feature. Using Auto-populate, some drivers have completed a full application on their smartphones in less than 2 minutes.
It's important to understand that mobile is more than just screen size. It's the pace at which business moves. Drivers expect a faster response time from a mobile application than from a paper application.
Drivers who submit a paper application expect someone to get back to them within a couple days. Drivers who submit an online application from a mobile device expect a response much faster. They expect a recruiter to make a meaningful connection (more than a canned response email) within hours. If you are not able to connect with them quickly via phone, text or chat it's likely your competition will or they will simply move on. This new mobile workflow hiring process can happen within days instead of weeks.
It is clear truck drivers are using mobile devices more than ever. They research carriers, read marketing emails, view landing pages, and fill out applications—all from their smartphones and tablets. What's more, after submitting an application, they expect a quick response. Any carrier who wants to succeed needs an online workflow that accommodates this mobile world. Keeping up with the pace of mobile is not an easy task, but with the right tools in place and a clear strategy the return is worth the effort.
Tenstreet sells software that connects drivers and carriers. We help you fill your trucks, manage compliance, and overcome new challenges as you continue to grow.
Contact us for a free consultation and tell us about the biggest problems your business faces.