2021 has been an especially unpredictable year in an industry that already suffers from major uncertainty. The effects of COVID-19 on the economy and on the driver market are still being felt all across the nation, and carriers have their work cut out for them when it comes to keeping up with the need to fill and run their trucks profitably. That being said, the past few months have been marked by optimistic data. Despite a challenging start to the year, the hopeful uptick we had begun to observe in our
last Tenstreet Market Index
has crystallized into an objective positive improvement over the past several months. We've continued to observe several positive industry-wide trends in our data that indicate things are moving up for transportation – which should mean smoother sailing for carriers in the months to come. Let's review the data to understand what's happening with drivers and carriers – as well as how to prepare for the next big changes we're predicting.
Weekly Driver Activity – 2021
We last visited this chart at the end of May, when the trend lines were all starting to move upward after a dip-filled start to the year. As the chart, which describes weekly driver activity over the course of 2021 so far, details, driver activity has continued to climb. Since the beginning of June,  we've seen the number of drivers filling out lead forms and full IntelliApps climbing along with monthly Driver Pulse users, indicating a clear focus from drivers on finding carriers and getting hired. This is commensurate with most year-over-year trends that see stable volumes of applications in the summer months. The only major dip during this season occurred right before the 4th of July, a common time for drivers to focus more on the holiday before returning to the job hunt. It's important for carriers to remember how seasonal hiring can be, even on a week-over-week basis, as we enter the end of the year. As family holidays start to dominate the later months of the calendar, carriers need to be prepared for these dips in activity, which often occur in the weeks leading up to a holiday.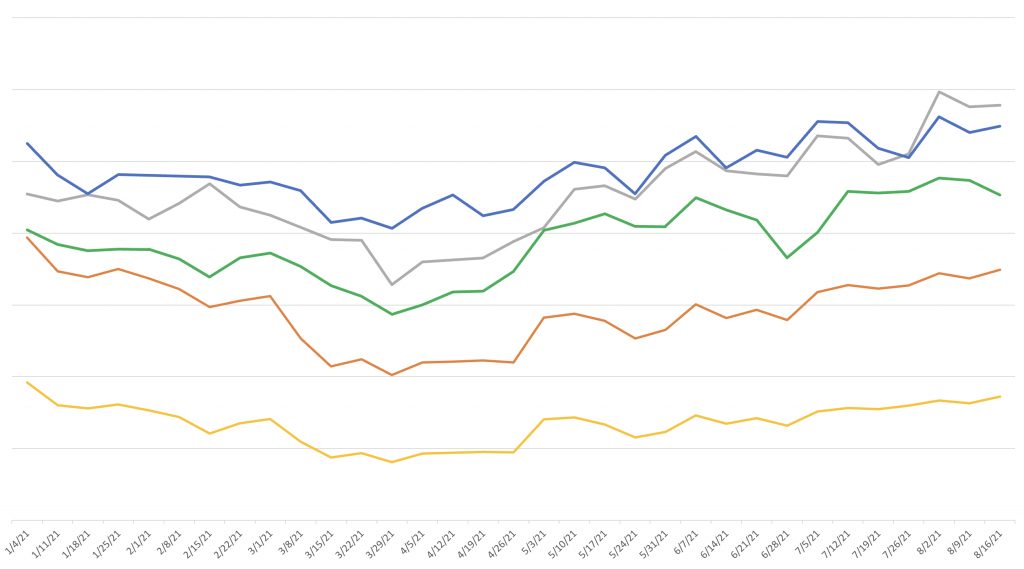 Application Activity Index
The Application Activity Index is a measure of Tenstreet clients who have had a consistent IntelliApp volume for the past 31 months. We assigned January 2019 a value of 100 for comparison, which gives us an easy way to see rate of application activity change over the last two and a half years while removing the impact of growth in the number of carriers using the platform. As you can see below, carriers as a whole took a huge hit starting in February of 2020 (just as COVID-19 was beginning to emerge in America) and the market slid steadily downward until May of this year. However, we finally seem to be on the rebound. Application numbers have been rising every month since April, finishing the summer off strong. This seems to suggest we'll see the market move steadily back toward the growth patterns we were expecting before COVID hit – note how many of the lines nearly mirror where the index first started. Expect an increase in applications over the summer and into the fall.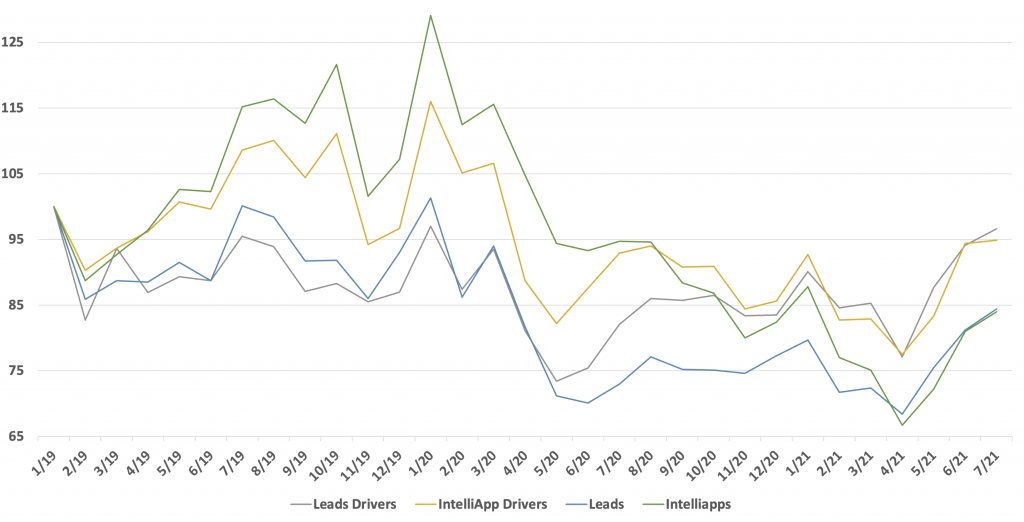 Cost Per Full Application
For most of 2021, carriers were paying more and more each month for full applications (and on average more than they had to pay in 2020), but May marked a turnaround. The cost of a full app began to drop and continued in freefall for the next two months. The rapid cost decline has started to level out, but we're back to the levels we were seeing at the beginning of 2020, before the start of COVID-19. Take advantage of this trend now to cut your recruiting costs while a wider selection of candidates are in the market.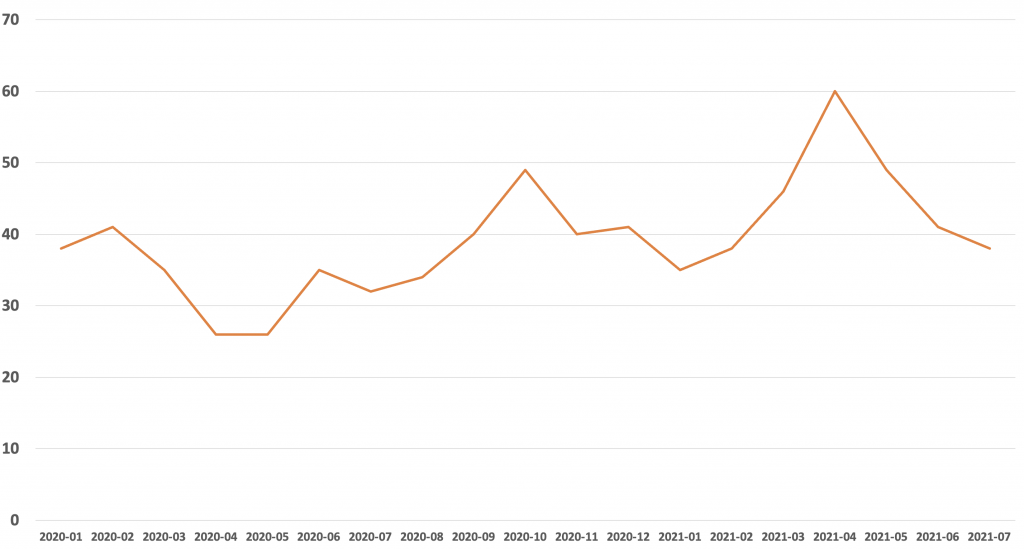 How To Prepare for the Future
Improved market conditions, like a lower cost for full applications and more driver applications coming in, are obvious positives for carriers that result in saved advertising budgets and faster hiring timelines. Now is the right time to take care of hiring trends and recruit the best drivers you can. Just as important as paying attention to current data is reflecting on seasonal patterns we've seen before. With Thanksgiving and Christmas on the horizon, we'll likely start to see these positive trends start to turn around again as soon as early November. At the same time, the industry still faces uncertainty around COVID-19. The delta variant could cause staffing and logistics issues through the coming seasons and into next year, so companies should be prepared for potential turbulence in the months ahead. If you have seats to fill or are planning to grow your fleet in the coming months, getting that done soon will help you avoid losing money on empty trucks.
Strategies for Increasing Hires
If you're one of the carriers looking to hire, consider picking up some new marketing tools that can help you improve your personal performance, regardless of industry trends. Here's a few marketing services that can jump-start your business as you look for new drivers:
Tenstreet's Job Store lets you post all your job openings from one place inside the Tenstreet dashboard. It brings more than 20 popular job boards together to save you considerable time, helping you find the drivers you need quickly at the best cost for your budget.
Our free Job Store concierge service pairs clients with a specialist who can advise on maximizing the utility of the Job Store, writing better ads, setting hiring geos, choosing the best merchants for you, and managing your recruitment budget – all for no cost or long-term commitment.
Pulse Match shows your job postings to candidates who meet the qualifications you've set for the position, keeping scattershot applicants out of your pool. Only pay a low price-per-application when you get one, and not a thing until then.
Tenstreet Can Help
Let us help your business take advantage of industry trends and see a new level of success. Many of our account managers and advisors have worked for carriers like yours in the past and know how to help. Give us a call at 877-219-9283 or email us at
[email protected]
 and let us help you put new strategies in place.