You and your team dedicate an enormous amount of resources to driver recruitment in advertising, onboarding, training, and hiring. These activities are a significant investment of both time and money. When drivers then leave shortly after starting, it hurts not knowing the reason or what you could have done to prevent it. It also bruises your budget to start all over again in filling that seat. You know drivers move on to other carriers for a variety of reasons: unmet expectations, equipment issues, higher pay, or a better work-life balance. However, trying to figure out why your drivers are leaving without a consistent way to measure their experiences is a bit like fumbling around in the dark for answers.
You want to figure out which of these issues are pain points for your fleet, and to what degree. Building a sound driver retention strategy is an important step for the long-term success of your business, but where do you start?
You need a way to illuminate your drivers' feelings so you can craft a plan that is tailored to your organization's fleet. The longer you can keep drivers with you, the less you will spend on recruiting activities, and the more profitable your business becomes.
Insights: Illuminating Driver Satisfaction & Commitment
With its acquisition of retention firm Stay Metrics in the fall of last year, Tenstreet opened the door to new opportunities to help clients overcome their retention challenges. Simply put, Insights provides carriers with the tools to address driver turnover head-on through a series of out-of-the-box surveys that can be used to gain actionable feedback from drivers.
Insights combines the power of Stay Metrics surveys with the efficient nature of both carrier and driver platforms available through Tenstreet. We wanted to create something for our clients that was ready to use. This new survey tool does just that so you can increase retention and drive profitability right away.
UPDATE: New Interventions Functionality Launched
Our new Insights service was launched earlier this year, and since then we've added many new pieces of functionality to our driver-saving service, including a new Interventions component to help carriers head off turnover more easily by being alerted to dissatisfied drivers right away. Through the Insights platform, Interventions automatically flags drivers based on negative responses to surveys, and then assigns an employee to connect with that driver to listen to their concerns.
Stay Metrics originally launched the Interventions survey functionality and utilization has shown the importance of talking with drivers flagged as at risk of leaving. A preliminary look at the numbers indicates that drivers who were flagged for an intervention had a 180-day retention rate that jumped over 20 percentage points from 55.5% when the intervention was not worked to 75.8% when it was worked by the carrier. This equated to a 37% increase in retention at 180 days, proving how valuable it is to intervene with those at-risk drivers and why we are excited to bring this functionality into Insights.
"Carriers will now gain a deep understanding of their fleet's satisfaction and commitment and can do this using the tools they are already accustomed to using through Tenstreet. This is just the beginning, as we will continue to bring innovation to the driver retention space." — Tim Crawford, CEO of Tenstreet
What Can Insights Do For You?
The Insights platform provides clients with the ability to:
receive feedback from drivers through four surveys that assess different stages of a driver's life at your company – First Impressions, Early Experience, Ongoing Experience, and Exit
conduct surveys through Driver Pulse, bringing assessments to the platform on which drivers are already actively engaging with your company
view color-coded, exportable detailed analytics within the Tenstreet dashboard, providing carriers with the ability to quickly see how they are improving over time or where they are continuing to see challenges
drill down into individual responses to identify why a driver may be dissatisfied
filter by worklist, tag options, assigned users, and date range options for hire and orientation dates
set summary reports to be emailed daily, weekly, or monthly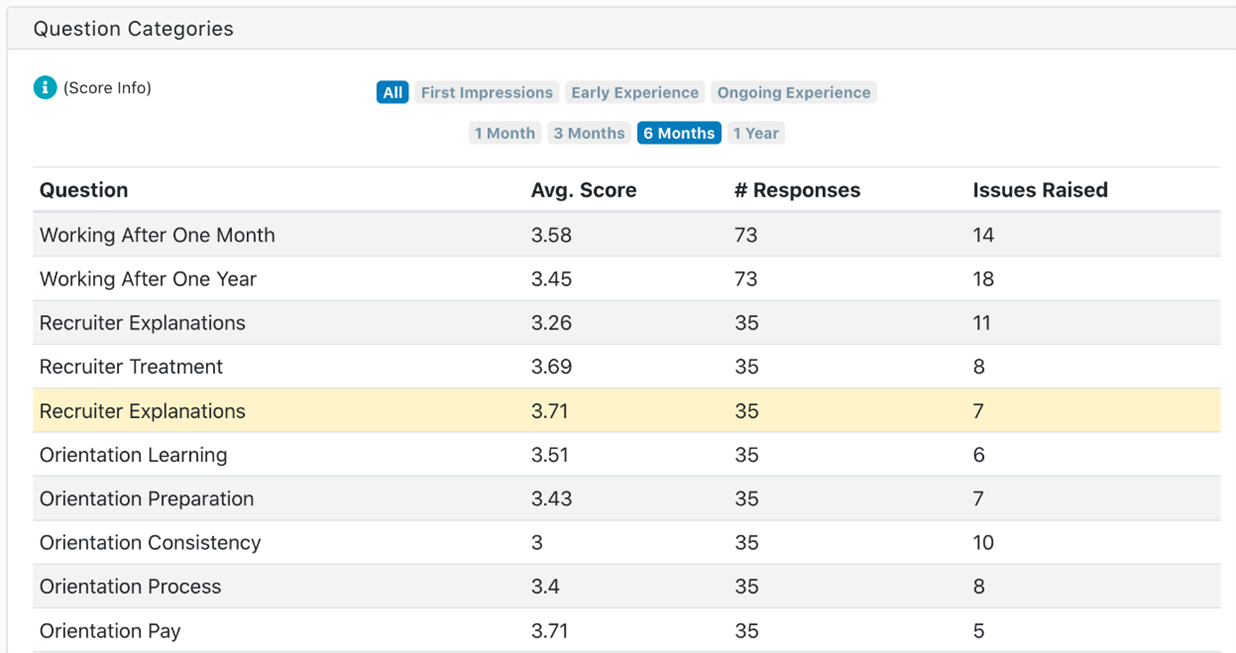 Learn More About Insights
To start capturing feedback from your drivers through Insights, schedule time to talk to us today!
About Tenstreet
Tenstreet's platform connects carriers and drivers, making it easier to fill trucks while staying compliant. We help thousands of motor carriers and private fleets to market, recruit, onboard, manage, and retain drivers.