When recruiting new drivers or focusing on your current fleet, there is a need to understand at a macro level what results in driver satisfaction and commitment. Should you focus efforts on pay, routes, dispatcher relationships, or elsewhere? Are there certain demographics that you are especially interested in learning about? Understanding what drivers are satisfied with along with their pain points can help you create a better recruiting and retention strategy moving forward. If you can segment that strategy in an intentional way, you can make an even greater impact on your turnover numbers.
Through analysis of its driver surveys, Stay Metrics, now owned by Tenstreet, produces a proprietary analytic referred to as the Stay Index. This analytic identifies issues that both show high levels of driver dissatisfaction and also are more influential in a driver's level of commitment to a carrier. In other words, these issues, if addressed, will have the biggest impact on driver retention. You want to be able to see not just where driver pain points are, but also how to prioritize those pain points. The Stay Index helps you do just that.
The Stay Index data below is computed across a set of survey items from our Ongoing Experience Surveys relating to a host of driver-related issues and was produced using a dataset from the second half of 2020. We at Stay Metrics were interested in seeing what differences existed between men and women with respect to items that impacted their satisfaction so we examined the Stay Index by gender. The rating for each of the items below is based on at least 8,300 responses from men and 500 responses from women.
The table displays the 10 items with the highest Stay Index ratings for both men and women.
Stay Index By Gender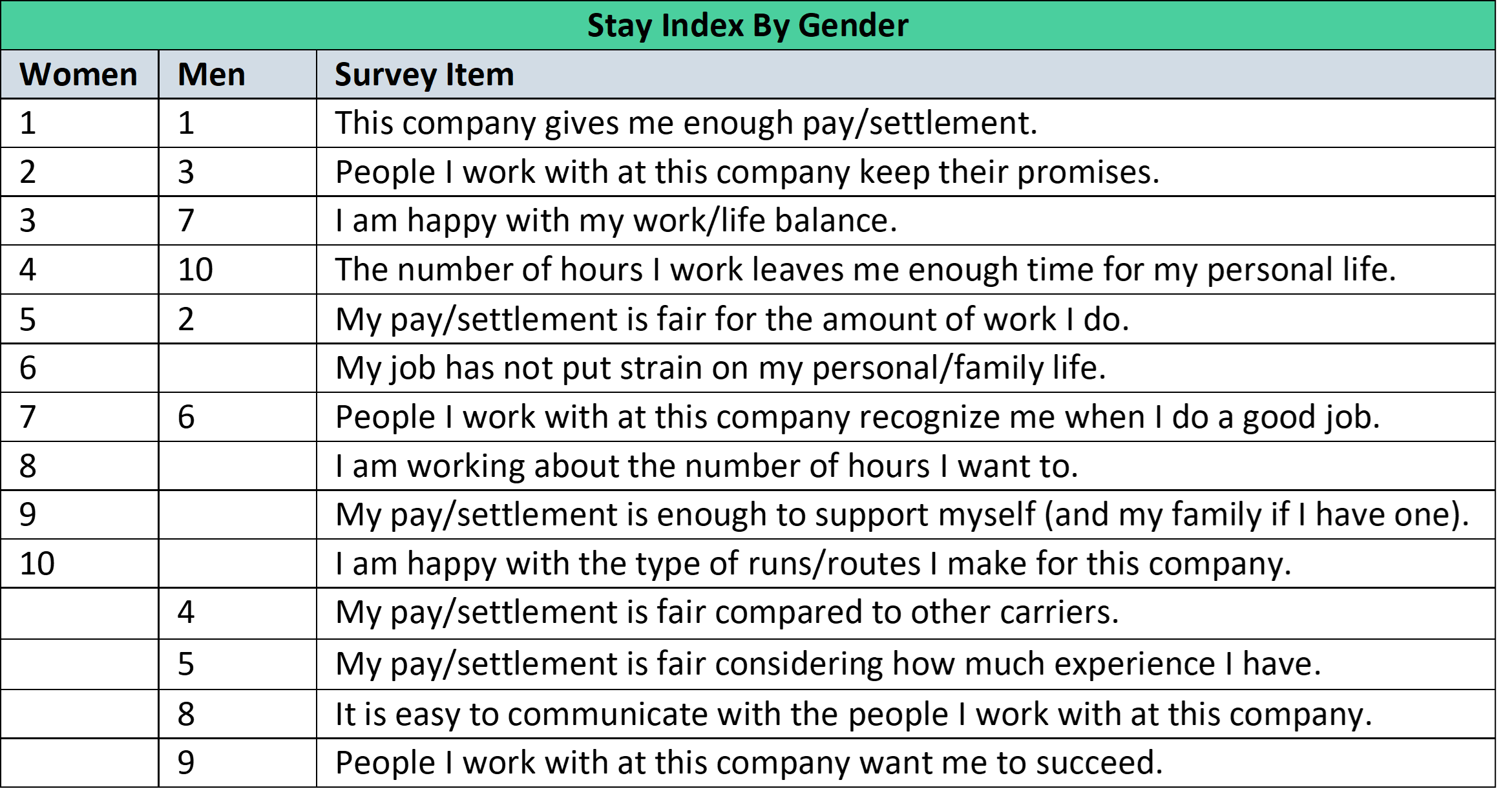 The trucking industry is dominated by men. As such, the opinions and voices of women may be harder to hear and recognize. By analyzing our Stay Index separately for men and women, we are able to identify issues that may be more important to either gender as it relates to their experiences driving for a carrier.
What Stands Out?
Pay matters, regardless of gender: The top item for both men and women is 'The company gives me enough pay/settlement'. This should come as no surprise as pay is the most basic need that everyone is meeting by driving for a carrier.
Women are more likely to value work/life balance: Three out of the top six items on the Stay Index for women are related to work/life balance, while there are no work/life balance items in the top six for men, and just two in the top ten.
Pay/Settlement comparison items are more likely to affect men's commitment to carriers: Pay/settlement issues were responsible for four out of the top five items for men, compared to two out of the top five for women (and three out of the top ten). The two unique pay/settlement issues appearing for men relate to their opinions of pay fairness based on experience and comparisons to other carriers.
What Are Our Takeaways?
Implement and promote practices that address work/life balance. There are a number of areas to consider. Holiday pay should reflect an actual average day's pay. Special home time requests should be honored and tracked. Rewards programs should provide more than money but also items that families would appreciate and enjoy.
Customize your recruiting messages. If you are focused on increasing the number of women driving for your organization, consider emphasizing your company's efforts to promote work/life balance as well as addressing key items like pay as part of your recruitment marketing.
Keep an eye on average time in the industry. On average, women have less experience in the trucking industry. As they spend more time in the industry, items like 'my pay/settlement is fair compared to other carriers' and 'my pay/settlement is fair considering how much experience I have' could have a greater influence on their commitment.
To see a Stay Index based on your own drivers' commitment, contact Tenstreet today or reach out to your Tenstreet advisor to learn about the portfolio of survey offerings available. Stay tuned for additional data insights from Stay Metrics and Tenstreet!
About Tenstreet
Tenstreet's platform connects carriers and drivers, making it easier to fill trucks while staying compliant. Together, we help thousands of motor carriers and private fleets to market, recruit, onboard, manage, and retain drivers.