If you're like most carriers, you use Greyhound every week to get your drivers to orientation. What you may not know is that you can order Greyhound tickets directly from within the Tenstreet Xpress dashboard. Greyhound Integration in Xpress is an impressive win in convenience and efficiency.
Take it from Rob Hatchett –
"The efficiency it has created for our recruiters is fantastic. They used to have to wait turns to sign in to our one Greyhound login. Now they can all use it at any time. Plus – the recruiters are just a couple clicks from seeing all the options for each driver. We book over 100 tickets a week, so it's definitely saved us many man hours each week."
Instead of working in two different systems, your recruiters can search, order, and track Greyhound tickets – right through Xpress.
Simple Order Interface with Greyhound Integration in Xpress
Plug in your departure and arrival zip codes, and start searching. You even have the option to search for stations in a 20-, 40-, 60-, or 80-mile radius. We configure each of your orientation locations with its own zip code to expedite the search – thus saving you time and eliminating the chance for a miskey. Once you select a departure date, you're presented with all available Greyhound tickets.
Tenstreet's Greyhound integration offers your designated users two views –Travel View Ticket Order allows a user to purchase a ticket from Greyhound, while Travel View simply allows a user to view tickets that have been purchased.
Tracking Made Easy
Your subject's travel information will be memorialized on his/her subject record via five tags – which also can be used to facilitate any reporting or tracking you wish to do. These read-only tags – Bus Ticket Confirmation, Departure City, Departure Tim, Arrival City, and Arrival Time – automatically populate when you order a ticket.
Driver Pulse Push Notice and Easy Reference
For Pulse users, the driver immediately receives a push notification letting him know a bus ticket has been ordered. The details of his trip are then saved in Pulse for easy reference – this automatically happens behind the scenes; no chance for miscommunication here.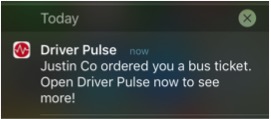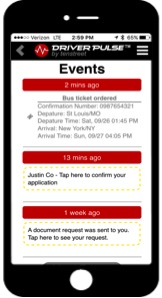 Further praise comes from Travis Bacon, of Prime, Inc. –
"The integration has been an enormous help for us. In the past, we had to email a spreadsheet with the driver's name, departing city, arrival city, PO number, dates and times. Now we can click a few buttons and the ticket is ordered. Also, we used to have to manually enter the ticket information with the bus schedule before we emailed the driver. Now it autofills for us. It's so much more efficient."
At Tenstreet, receiving positive feedback from our valued clients is what we live for. Helping to make people's lives easier is our ultimate goal, and we are thrilled to know we've achieved it with our Greyhound recruiting service.
To learn more about adding Greyhound Integration in Xpress' dashboard, contact your Tenstreet Advisor today.