As a safety manager, one of the most challenging aspects of your job is keeping up with the paperwork and various systems in place that are necessary to stay on top of issues. When an event happens, you're used to hitting the ground running – working with the driver, logging into your telematics platform, typing in information from the CSA site, and pouring through boxes of paper driver files to review previous accidents, incidents, and violations to check for any proof of trainings the driver has had previously.
Suffering from disconnected, disparate systems and system-switching fatigue causes you and your team to experience delays, errors, missing information, and mass confusion. When your job is to stay ahead of all things safety, the reactionary, silo-ed approach is not the way to go.
Welcome to Tenstreet's Interconnected Safety Management Platform
Tentreet's automated safety management solution brings together all of the features you need in one easy and convenient platform that helps you gain control over your safety management practices. Functionality has been built across the same four logical phases you go through when an event occurs:
GATHER data on driver safety using telematics integrations, CSA, Xpress accident and incident entry, and the Driver Pulse app – which provides drivers with an easy path to upload police reports, share pictures of accidents, and add notes. All your relevant safety data is now in one place.
EVALUATE your information about events and incidents with the added context of a driver's full history (captured from their recruiting and onboarding data), consider already accrued points, the state of their DQF, how many accidents they had when they applied, training completed, and more to make decisions about how to respond.
ACT on the facts by enrolling drivers in remedial training, documenting a coaching conversation, assigning points to an event, notifying other employees at your company, and more – all within the same workflow where you're looking at your data. Just like in the GATHER stage, Driver Pulse can be leveraged here to make taking training classes and quizzes a cinch for drivers. It helps carriers automatically assign corrective training based on the infraction received, conduct virtual coaching, and communicate via in-app video and messaging. Drivers are connected to Tenstreet's complete training and testing library, which is free and open for drivers.
CLOSE THE LOOP on an incident once all the steps are completed by managing late-stage CSA data, filing police report documentation, tracking repair estimates, and more.
How Safety Management Helps You Manage the Entire Driver Lifecycle
When you implement Tenstreet's Safety Management, you unleash the full power of Tenstreet.
Picture each event – violation, accident, or incident – automatically linking to CSA data, DQF files, previous and assigned trainings, corresponding telematics data, driver documents (e.g. police reports, medical evaluations, safety reports, and photos), equipment, past events, and data received in recruiting and onboarding. The tool also provides an activity thread and communications history along with other at-a-glance details to help tell the whole story. It's the first and only safety management platform that brings everything into one system for easy and consistent handling.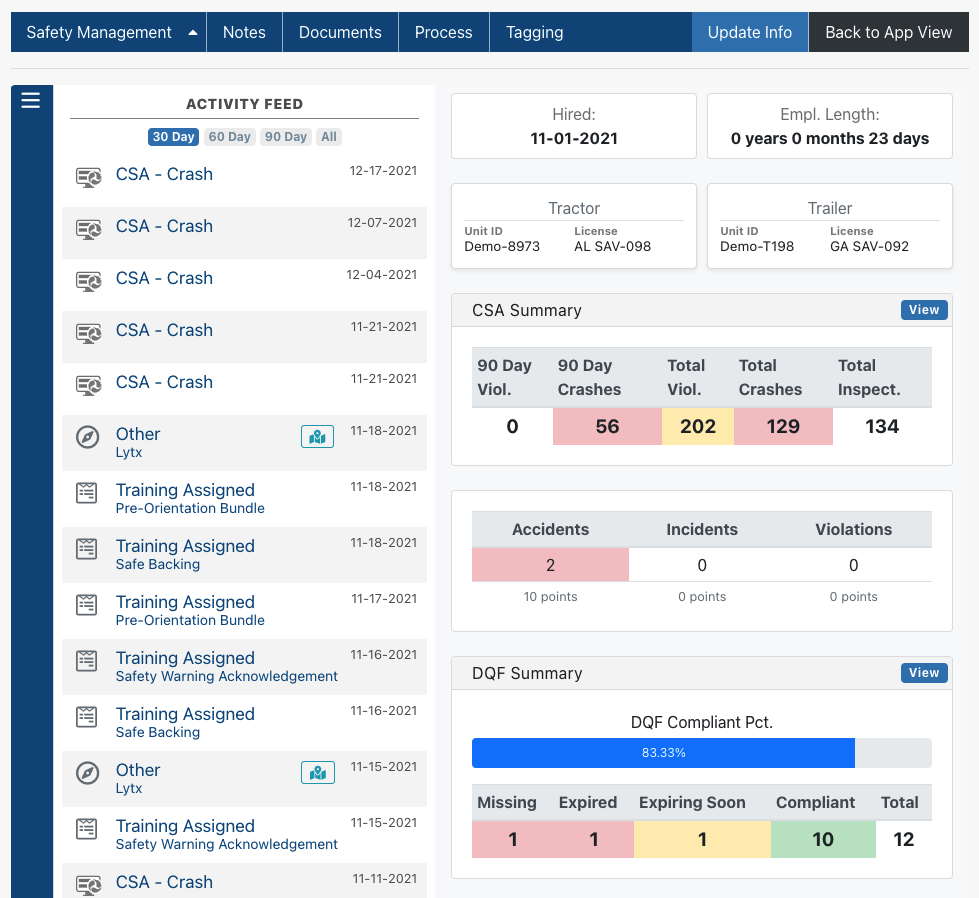 Our latest releases showcase these helpful additions:
TELEMATICS SYNC – Every dashcam event is unexpected and different, but the way you handle these events doesn't have to be. Integrations with popular telematics partners – such as Samsara, Lytx, Keep Truckin', and Geotab – place ELD-triggered dashcam events directly in your dashboard, allowing you to run automated processes and assign training based on the infraction received to reach higher levels of compliance.
CLAIMS & EVENTS MANAGEMENT– maintain compliance, manage risk, and enrich record quality with the ability to capture over 50 different event data points – including road condition, weather, and road type – so your team can see the full story behind any accident, incident, or violation. This new tool helps you improve documentation and syncs with CSA and Telematics data to help you resolve claims with greater ease.
EQUIPMENT TRACKING– track your equipment in the same place you manage your drivers! Our software will decode your VIN numbers to auto-populate fields such as year, make, model, engine size, country of origin, and allow you to assign drivers, attach and manage missing and expired equipment-related files, apply tags, sync with related CSA and telematics data, and add notes to capture the full story of each asset.

A look at Equipment Tracking within Tenstreet.



EQUIPMENT FILES MANAGEMENT– just like files are required for your drivers, your trucks also need up-to-date documentation. Our software alerts you when critical documents such as insurance, inspections, and 2290s are missing or expired to help you better manage your trucks.
BROADCAST – allows users to send text and video messages to drivers, making it easy for multiple departments to keep information flowing freely. The tool helps carriers communicate with drivers at every scale, whether that's just one driver at a time or large segments of the driving workforce.
DRIVER MONITORING INTEGRATION – Our SuperVision integration allows clients to easily track their MVR data from within the Tenstreet dashboard.
Break free from incompatible systems and broken processes
You want a better solution. One place for accessing all of your driver-related data and forms to help you gain a holistic view of the history of each driver in your fleet. Tenstreet makes gathering necessary information, evaluating an incident, acting in an efficient manner, and closing the loop on any aspect of a safety-related event a straight-forward process. Streamlining your efforts frees up your time to focus on building safety strategies – like creating a training and coaching program and other methods to help increase your carrier's profitability through decreased litigation costs, lowered insurance costs, and fewer incidents per mile.
Get the dependable, holistic safety solution you deserve that helps you connect the dots and doesn't just keep you running from issue to issue. Put an end to the continuous cycle of paperwork and countless logins and let our Safety Management solution show you the value of interconnectivity.
Let us show you a Safety Management demo tailored to the way you do business!