Check out our live demonstration!
As a safety manager, one of the most difficult challenges of your job is keeping up with the paperwork and various systems in place that are necessary to stay on top of issues. You know you have to put in the time to keep your carrier moving and growing, but the effort involved in managing everything related to safety can be daunting. When not handled properly, it can lead to delays, errors, missing information, and mass confusion. This can be a resource drain that leaves your carrier at risk. When your job is to stay on top of all things truck driver safety, the disconnected, siloed approach is not easy, and certainly not optimal.
You want a better solution, a one-stop shop for accessing all of your driver-related data and forms so you have a holistic view of the history of each driver in your fleet. Streamlining your efforts would allow you to move your focus to building safety strategies, like creating a training and coaching program at your carrier, instead of just keeping up with new issues as they arise.
You don't want to just handle safety issues when they happen. You want to create a culture of safety – increasing your carrier's profitability through decreased litigation costs, lowered insurance costs, and fewer incidents per mile. You need a way to connect everything together so you can get away from incompatible systems and broken processes that don't tell the whole story.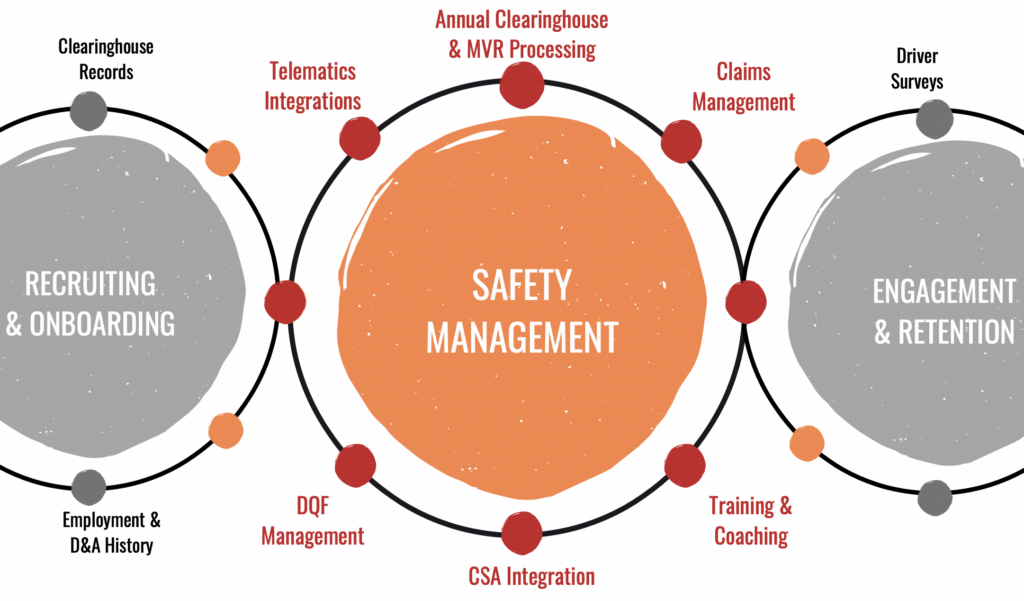 Tenstreet's Safety Management Service
Tenstreet has always offered Safety Management tools, but our improved automated solution brings together all of the features you need in one easy and convenient platform. The improved Safety Management system gives you full visibility into all the events (accidents, incidents, violations) that span a driver's history, helping you reach new levels of compliance. It connects pre-hire with post-hire, pulls in your CSA and telematics data, and leverages Driver Pulse for easy document sharing, corrective training and coaching, quick communication, and more.
Tenstreet's Safety Management has been re-engineered to be a one-stop, interconnected safety solution that will help you gain control over your safety management practices.
How Safety Management Connects Drivers and Events
When you implement Tenstreet's Safety Management, you unleash the full power of Tenstreet. Safety managers can build and customize a powerful, cross-functional safety service that fits their specific business needs and links to data collected in recruiting and onboarding.
You'll enjoy a high-level overview of each event. Accidents, incidents, violations, CSA data, DQF files (showing which are missing, expired, or compliant), assigned trainings, an activity thread and communications history, along with data received in recruiting and onboarding, and other at-a-glance details will help tell the story of your drivers. Each event is mapped to corresponding telematics data, driver documents (e.g. police reports, medical evaluations, safety reports, and photos), and notes, bringing everything into one system for consistent handling.
Safety Management leverages Tenstreet's Driver Pulse app to make sharing documents and taking training classes and quizzes a cinch for drivers, and allows carriers to automatically assign corrective training to a driver based on the infraction received, conduct virtual coaching, and communicate via in-app video and messaging. It connects drivers to Tenstreet's complete training and testing library, which is free and open for drivers to take as many classes as they wish.
Syncing With Telematics
Every dashcam event is unexpected and different, but the way you handle these events doesn't have to be. Integrations with popular telematics partners place ELD-triggered dashcam events directly in your dashboard, allowing you to run automated processes and assign training based on the infraction received to reach higher levels of compliance.
What Else Can Safety Management Do For You?
Enjoy interactive, drill-down sections that allow for the easy reviewing of event-related CSA, ELD-triggered dash-cam events, documents, communication, and notes activity
Seamlessly connect to your in-house accident registry and points management systems, helping create

a natural path to meaningful retention and remediation decisions

Feel safe knowing all your digital files are encrypted, ensuring confidentiality of sensitive information through the following of strict privacy standards
With these features and more, carriers can finally have the dependable, holistic safety solution they need that helps them connect the dots and doesn't just keep them running from issue to issue. Break through the endless cycle of paperwork and countless logins and let our Safety Management solution show you the value of interconnectivity.
Contact Tenstreet today and we'll show you a Safety Management demo tailored to the way you do business!
Still looking to learn more?
Download our Safety Management cutsheet to see a how easy we make claims management, or take a look at what a year of Safety Management might look like for your carrier!
Watch the recorded webinar, Safety How It Should Be – Comprehensive & Connected, on our YouTube channel.