If you're like us, you're probably still throwing the confetti around from our Focus party last year, celebrating the fact that the Focus tab lets you view your business's high-level data through a collection of easy-to-use tools. But take a minute to catch your breath and find a chair, because we have even more news: three new widgets have landed in Focus!
Without further ado, these are the newest guests to our data soirée:
Elapsed Time Widget
For anyone using Origins, the Elapsed Time Widget is a handy friend that lets you assess your hiring timeline at a glance. Filterable by Worklists, Recruiters, and Processors, this widget takes your Origins data and shows you how long applicants are taking to move from one hiring status to another.
You can also adjust the data you're seeing in the widget by date range and between any combination of statuses you want – we support your obsession with what happens between your Processing and Orientation buckets. Rather see your data in a table than a graph? Scroll down to the Elapsed Time Details area to see the average days elapsed along with the number of applicants for each week. To top it off, the data is accurate in real-time, so you're getting an up-to-the-minute look at all your applicants and days elapsed. If you can quickly target when a driver sits between statuses for days at a time, it makes it easier for you to understand where holdups are happening and work with your recruiters to move quality candidates along faster.
The Elapsed Time Widget loves to show you big-picture trends, so when you want to see which applicants are behind the numbers, shimmy over to the Elapsed Time Between Statuses Report in your Reports tab to check out the data at the driver level.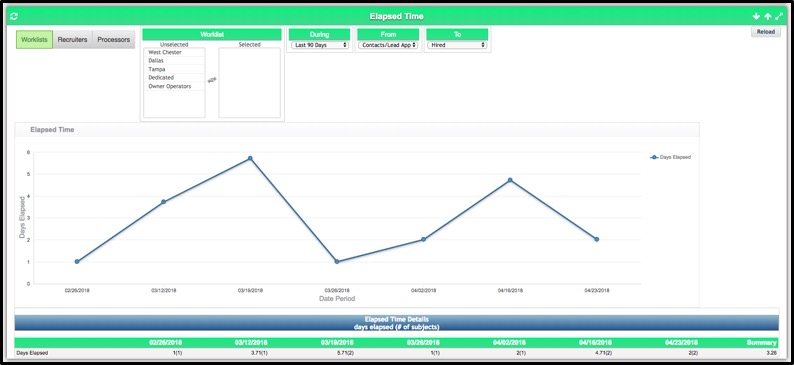 QR Code Widget
The QR Code Widget wants you to remember its favorite quality: its dynamic personality! This helpful pal lets you put a unique QR Code on anything – business cards, trade show fliers, stickers on the back of your trucks – that can lead to either your company's landing page or your IntelliApp. So, what's the dynamic part? You can change the destination your QR code leads to, but the image will remain the same, so there's no need to reprint marketing materials if you have a change of heart on where you want to direct drivers. The widget also shows you how many scans your code has gotten over the past 30 days, so you can track engagement over time.
The best part of all? Using this widget and getting your QR codes is free – that's how committed it is to getting you more applications.

IntelliApp Now Summary Widget
Right now you're probably saying to yourself, "This is a pretty great party so far, but I really want to know how IntelliApp Now is doing while I'm hitting the snack table." There's good news: our last guest, the IntelliApp Now Summary Widget, is always ready to catch you up on the latest stats.
IntelliApp Now allows recruiters to accelerate their response time and connect to their most qualified drivers quickly. As such, this widget provides a quick overview of the time of day all your IntelliApps were received over the current day, week, or month and shows you how many of those apps met your IA Now qualifications (experience, violations, accidents).
From there, you can see how many of those quality apps were handled and assisted by your recruiters. It's an easy way to keep tabs on your incoming apps, leaving more time for you to work the crowd.
Turn The Music Up
If you haven't showed up to the Focus party yet, now is as good a time as any to explore what all our friendly widgets can do for you. They love to dance around, so experiment with rearranging and customizing them in a way that shows you your most important information the way you want to see it.
Can't Find Your Friends?
If your Focus tab has you hanging out alone with the Application Volume widget, ask your primary to invite you in to the party! They're the bouncer at this event and hold the key to making all your widget introductions.
Don't head home just yet, even if you think the evening is winding down. We're always adding more widgets, so this party never has to end!