Job Store is a revolutionary way to purchase job board advertising from one digital store front inside Xpress. It works to put your Active Jobs in front of available drivers. Enter your Active Job once, and post it to multiple boards and markets in just a couple clicks. You can find a complete list of all our integrated job boards by viewing our Job Store Merchants blog. We add more all the time!
We also hold monthly demonstrative webinars on Job Store to show our clients how easy it is to use and to answer their questions. To join a live demo and ask questions of your own, register for our next monthly webinar series. 
Since Active Jobs plays such an integral role in Job Store – we've made them a key focus in our Job Store 101 webinar. 
Managing postings and job board purchases traditionally – across multiple, isolated sites – is a complex process. To further complicate this already labor-intensive process, attempting to measure attribution is a challenge at best.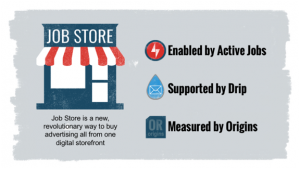 But Job Store makes it easy to analyze conversions by aligning with other Tenstreet Marketing services, such as Drip, Job Board Scrubber, and Origins to give you a holistic approach to all your advertising and marketing needs.
You can see how we do it in our Job Store 201 webinar.
In short, Tenstreet Job Store provides instant relief to this pain point, offering a convenient gateway to popular job boards, all from one place.

Getting Started with Job Store –
Easy Set Up
Step 1: Define your Active Jobs–
These are the descriptions, requirements, and locations of the positions for which you're hiring. Enter them in one place, and see them across your platform (on Driver Pulse, Job Store, IntelliApp, Xpress, and more).
Step 2: Place your Order in Job Store –
Job Store offers a one-stop shop for your Full and Partial IntelliApps (through Pulse Match), and lead apps (through popular job boards).
Step 3: Get Apps!
Whether you use our Xpress services line, or simply have applications emailed to you, you can fully rely on Job Store to deliver more of the applications you need to fill your jobs.
Getting Started with Job Store – FAQ
Any additional questions?
Please contact your advisor or [email protected] today – we're looking forward to talking with you!

---
Ready to Learn More About Job Store?
Check out a pre-recorded webinar below!