A few years ago, we released our poster series titled '7 Habits of Highly Effective Driver Recruiters'.
Today, we wanted to revisit this post to show you how Tenstreet creates services with effective recruiting in mind. For each habit listed below, we've given a brief description, and detailed a Tenstreet solution. To learn more about any of these services, click the links to learn more, and then reach out to s[email protected] for additional information or a walk-through.
1. Respond Quickly:
Respond to new application submissions quickly.
Tenstreet Solution:
Tenstreet has a lot of great tools that help you respond not only immediately after a driver submits an application (more on that below), but we also have a solution that goes above and beyond by allowing a recruiter to reach out to a driver in real-time, during any section of the application.

With Tenstreet's IntelliApp Now, not only can you see and interact with a driver while he's completing your IntelliApp, but more importantly, you can see whether or not he meets your hiring criteria as it pertains to experience, accidents, and violations. Mobile notifications can also be set up to alert recruiters – allowing rapid after-hours outreach to the best drivers, before they're gone.
Additionally, if your driver applied through the Pulse app – which more than 1,300,000 drivers now do – you have immediate access to them via message, text, or phone directly from your Xpress dashboard. Communications are tracked in your dashboard, so you have a historical account of the conversation preserved on the subject record.
Don't forget the power of the text! Tenstreet's Texting service is also another highly productive way of reaching a driver immediately, which is especially useful when you're away from your desk (when using the Tenstreet Dashboard app).
2. Stay in Contact:
Stay in contact with drivers after they submit their applications.
Tenstreet Solution: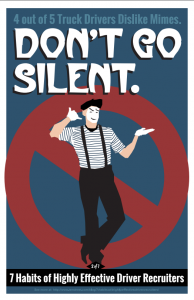 Just because you have a driver's completed application this week, that's no guarantee he'll be in that orientation seat next week. Don't let your driver end up in the arms of another carrier.
Your best response is a twofold strategy to engage drivers after they've applied. The first prong involves easing up your workload with automated touchpoints like verification messages, form requests, training videos, and more to drip key information to drivers. The second involves spending time on key personal touches like a video voicemail thanking the driver for applying and calls or video chats to learn more about the driver. Tenstreet's Pulse Video Chat tool makes it easy to connect face-to-face with these drivers and make them feel valued while automation frees you up for the interactions that matter.
Using your energy to efficiently stay in touch with applicants continues the courtship, increasing the likelihood that your driver will show up to orientation – and stay for the long haul.
3. Know the Stats and Stay Connected:
Accept the market reality, and stay in contact with those drivers who would make a great hire.
Tenstreet Solution:
Sometimes, for matters outside of your control, a driver simply isn't ready or able to commit. Maybe he has too many points on
his license, doesn't have enough experience, or simply isn't of age. Goodbye Driver Engagement (for now), Hello Reconnect Tool.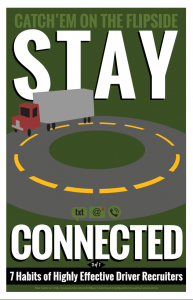 This service provides you with an automated way to track the eligibility of the drivers you want, so you're alerted with a homepage report and built-in notifications when they're ready to be pursued again (or in the previous examples – has had points fall off his license, has gained a year of experience, or has met your minimum age requirement).
Another service that helps you stay connected with your drivers is Drip Marketing. With both a recruiting and retention-centric model, Drip Marketing targets previous employees (for rehire), lead apps (to complete full apps), and any other group of eligible drivers with a series of timely, well-crafted emails and texts.
4. Know the Details:
Be knowledgeable on the jobs for which you are recruiting
Tenstreet Solution:
Effective recruiters know the details of the jobs (read: driver benefits) they're recruiting for by heart, so they can answer any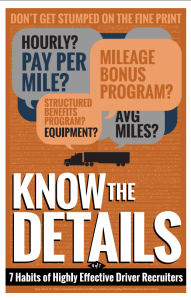 question a driver asks on the spot. However, nobody can know everything all the time. Pre-hire letters that perform calculations
(e.g. yearly estimated salary based on cents/mile), and educational materials that you can access in your Tenstreet dashboard give recruiters access to the information they need at a moment's notice.
To help your team stay on top of the details, many carriers upload anything from the employee handbook to blogs about effective recruiting tips. If you're interested in this, it's a free service – just get with your account manager and they'll be happy to help you.
5. Know the Technology Platform:
Understand the recruiting process from a driver's perspective.
Tenstreet Solution:
The best players in the business know that in order to really capture the heart of a driver, you have to understand what it's like to walk a mile in their shoes. Short of that, you at least need to understand your recruiting process from their side.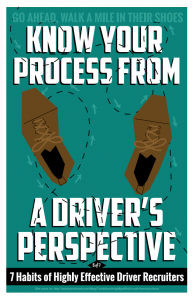 Having a basic understanding of popular mobile devices is a great place to start, considering nearly 70% of applications come through on mobile devices. And, Tenstreet's Pulse app not only is driver-friendly, but is recruiter-friendly too. And once you familiarize yourself with the simplicity of the recruiting and onboarding functionality in Pulse (we can help with this!), it's the only thing you need to know to get drivers processed and onboarded faster than ever before. Pulse is the app that brings carriers and drivers together, and delivers tremendous advantages over any other trucking app out there – and it's free. Why wouldn't you use this already common industry resource that makes recruiting, hiring, onboarding (including drug testing) a piece of cake? Join the 300,000 drivers and 2,000 carriers who already do, and see for yourself.
6. Know Where You Need Drivers the Most:
Understand your company's big picture.
Tenstreet Solution:
With Active Jobs, this is an easy one. To make tracking, managing, and posting all your open positions really simple, Active Jobs was born. Giving you the ability to add a job (requirements, descriptions, and locations) in one place, and have that job reflect in several places across the platform keeps everybody on the same page. Recruiters can easily see what positions are active and which subjects are a good fit (via the blue man in Xpress), helping the entire team stay on top of their game.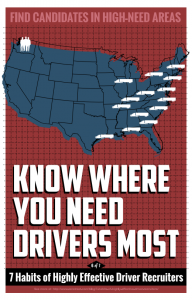 Through Job Store, you have the power of posting your Active Job across nearly a dozen application sources – including top job boards (Indeed, Glassdoor, Jobs in Trucking, etc.) down to a specific zip code location, in just a couple clicks. We're adding more merchants (job boards/applications sources) every month, so stay tuned!
In addition to Active Jobs helping you to keep your eye on the prize, Tenstreet's IntelliApp Statistics gives an amazingly high-level overview of the return on your IntelliApp(s) across your entire company. Providing insight into the performance of your IntelliApp and why it works for you allows you to make informed decisions about your hiring process (and how it could be improved) – helping you to grow your business even further.
7. Know Your Recruiting Policies & Procedures:
Process drivers as quickly and as painlessly as possible to result in more hires
Tenstreet Solution:
If a company is a body, then automation is its armor. While it certainly behooves you to be familiar with your policies and procedures, Tenstreet's Automation Services ensure that the important steps are never missed. So even on those days where the strings on your company are pulled tight, drivers will continue to be fully processed in a matter of minutes.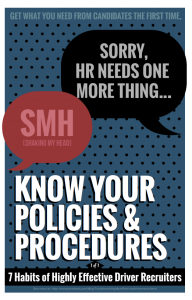 With an automated workflow in place, your procedures are followed to the tee by the system, with no room for human error or any other unpredictable delay. Meaning recruiters have more time to do what they do best – recruit.
Additionally, Tenstreet has a lot of powerful partner integrations that take the pain out of processing, allowing you to process a driver in under 60 seconds. Don't believe us? Let us show you how – email [email protected] today for a free, live demonstration.
So what else can we do, besides all this?
Actually, quite a lot. Email [email protected], and let us show you how you can get started with Tenstreet.
And don't forget to download your free 7 Habits of the Highly Effective Driver Recruiter posters today!
Happy Recruiting!